January 10, 2018
Thirboki Shoki Lyrics
Thirboki Shoki Lyrics: Thirboki Shoki is a song from an upcoming 2018 Kannada movie Shathaya Gathaya written, directed and produced by Sandeep Gowda under the banner Alphaa Pictures. Shathaya Gathaya features Raghu Ramappa, Sonu S Gowda, Kuri Pratap, Gaddappa and others. Aanand Audio is the music label of this movie.
This song was composed by Ravinanda Jain with lyrics penned by Sandeep Gowda. Thirboki Shoki was rendered by Vijay Prakash.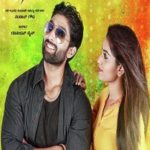 Thirboki Shoki Lyrics
Movie: Shathaya Gathaya [2018]
Music Label: Aanand Audio
Music: Ravinanda Jain
Lyrics: Sandeep Gowda
Singer: Vijay Prakash
Check out the lyrics here..
Hudgur Yede Mele Hudgeera Thirboki Shoki
Preethi Prema Ella Olu Bari Golu Ella Bitt Haaki
Hudgur Yede Mele Hudgeera Thirboki Shoki Shoki
Preethi Prema Ella Olu Bari Golu Ella Bitt Haaki Bitt Haaki
Gand Makla Golu Botlee Nee Kelu
Hudgeera Haavlige Hrudaya Bagaalu
Hrudaya Bagaalu
Hudgur Yede Mele Hudgeera Thirboki Shoki
Preethi Prema Ella Olu Bari Golu Ella Bitt Haaki
Pyaari Pyaari Antha Hind Hinde Bidde
Choori Haake Bitlu Badkiddu Saththe
Lovvu Lovvu Antha Kai Kottu Hodlu
Inmel Nan Life-Uu Fullu Kathlu
Biriyaani Life-Fu Chithraanna Aaythu
Mansu Kansu Ella Chooraagi Hoythu
Preethine Ondu Thirboki Shoki
Preethili Biddoru Pakka Thirboki
Thirboki Thirboki Thirboki Thirboki Thirboki Shoki
Thirboki Thirboki Thirboki Thirboki Preethine Shoki
Hachkonda Haida Baalakke Benki
Hudgi Munde Aaghodaa Mankey
Hrudaya Nanna Hrudaya Aluthide Kelideya
Koogi Karedaroo Ninna Bittu Hodeya
Naanu Kanda Kanasu Kanasaagi Ulideya
Kanaso Nanaso Ariye Ee Preethi Vismaya
Enthenthorella Eddu Biddhodru
Hennu Hennu Antha Mannagi Hodru
Preethsolu Kai Kotru Kai Hid'did Quatru
Preethili Solode Eshtidroo Meetru
Artha Aaythenlaa
Thirboki Thirboki Thirboki Thirboki Thirboki Shoki
Thirboki Thirboki Thirboki Thirboki Preethine Shoki
Hudgeer Dovvu Hudgurge Novu
Maadlebedi Yaamaari Lovveu
Hudgeer Dovvu Hudgurge Novu
Maadlebedi Yaamaari Lovveu
Gand Makla Golu Botle Nee Kelu
Hen Haikla Haavlige Hrudaya Bagalu
Hrudaya Bagalu
Hangaare Yen Madana Anthiya Maga
Bithaaki Bithaaki Bithaaki Bithaaki Love Anno Shoki
Ee Thirboki Shoki Love Anno Shoki Lovve Thirboki Shoki
Shathaya Gathaya Song Lyrics
Lungi Yethkondu Myalakke
Khali Site Nanna Hrudaya
Thirboki Shoki
Chamak Chalo
Comments
comments