November 21, 2021
Aararum Manassil Ninnorikkalum Lyrics | Mappila Song
Aararum Manassil Ninnorikkalum Lyrics | Mappila Song: Aararum Manassil Ninnorikkalum is very popular Malayalam Mappila Song. The song gained lot of attention in recent past as the song was performed by singer Shahaja, in a Reality Show 'MediaOne Pathialam Ravu' Season 3, Episode 48. The song became viral in YouTube with 38M views till date.
Mappila songs [Mappila Paattu] are a folklore Muslim songs of Mappila community of Kerala. These song genre rendered to lyrics, within a melodic framework known as Ishal, in Arabi Malayalam. They have a distinct cultural identity, while at the same time remain closely linked to the cultural practices of Kerala.
The songs often use words from Persian, Hindustani, and Tamil, apart from Arabic and Malayalam, but the grammatical syntax is always based in Malayalam. They deal with themes such as religion, love, satire, and heroism, and are often sung at occasions of birth, marriage, and death.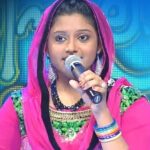 Aararum Manassil Ninnorikkalum Lyrics
Music: N/A
Lyrics: N/A
Genre: Mappila Paattu
Language: Malayalam
Singers: Various
Check out 'Aararum Manassil Ninnorikkalum Song Lyrics' here
Aararum Manasil Ninnorikkalum Markuvaan
Avaatha Vidhamullathaaya Ellam
Aadambarangalu Onnaai Koottiketti Kondadunnaa
Anandhamrudha Kalyaanam
Aararum Manasil Ninnorikkalum Markuvaan
Avaatha Vidhamullathaaya Ellam
Aadambarangalu Onnaai Koottiketti Kondaadunnaa
Anandhaamrudha Kalyaanam
Poarana Pathiyude Naduvile Athijaka Padavadi Medayile
Poo Mulla Panthalum Mathilaka Puramathu Palavidha Niramaale
Poovadi Kasavith Thilangidum Vilangidum Manimalarishalaale
Konjunna
Chorus: Konjunna
Adiyadi Mudi Kannanjunnaa
Chorus: Kannanjunnaa
Thornaakka Maalaminalum Vaidhuthi Prakashaminaalum
Jil Jil Jil
Chorus: Jil Jil Jil
Jil Jil Ho Zhil Zhil Zhil
Chorus: Zhil Zhil Zhil
Zhil Zhil Zhil Mil Mil Mil
Chorus: Mil Mil Mil
Thom Thithaka Thaka Thaka Thaithom
Thaalam Tarikida Dhanu Chunu Sarigama
Sarigama Padanisa
Chorus: Sarigama Padanisa
Sanidapa Magarisa
Chorus: Sanidapa Magarisa
Sarigama Padanisa Sanidapa Magarisa
Sangritha Pamagari Rimagari Padanisa
Sa Sa Sa
Chorus: Sa Sa Sa
Ri Ri Ri
Chorus: Ri Ri Ri
Ga Ga Ga
Chorus: Ga Ga Ga
Sa Ssa Sa Ri Rri Ri
Ga Gga Ga Ma Ma Mma
Papa Papa Papa Sa Ssa Sa Ssa
Ni Nni Ni Nni Sa
Chorus: Sa
Sa
Chorus: Sa
Saara Sagritha Pamagari Melam
Sandhra Madhurima Maayoru Melam Annaane
Chorus: Annaane
Hoi Hoihoi Annaane
Chorus: Annane
Enguma Bhangiyil Mungi Vilangi
Vilangi Mayangi Murungi Muzhungiya
Rangilorungiya Mangala Pandhal
Aararum Manassil Ninnorikkalum Markuvan
Avaatha Vidhamullathaya Ella
Adamabrangalu Ellam Kotti Ketti
Kondadunnaa Anandhamritha Kalyanam
Aranga Thalirinu Mazhakode Kidalidum Nava Madhu Sundharigal
Navrangi Thabalayum Bul Bul Gadamode Pidsi Tharayumaai
Navarasam Thulumbidum Nava Nava Kavithakal Anvathi Uyarukayayi
Njettunne
Chorus: Njettunne
Karimarunnanavadhi Pottunne
Chorus: Pottunne
Poothiri Idi Minnale Vitte
Laothiri Mathapoli Venam
Jil Jil Jil
Chorus: Jil Jil Jil
Jil Jil Ho Zhil Zhil Zhil
Chorus: Zhil Zhil Zhil
Zhil Zhil Zhil Mil Mil Mil
Chorus: Mil Mil Mil
Thom Thithaka Thaka Thaka Thaithom
Thaalam Tarikida Dhanu Chunu Sarigama
Sarigama Padanisa
Chorus: Sarigama Padanisa
Sanidapa Magarisa
Chorus: Sanidapa Magarisa
Sarigama Padanisa Sanidapa Magarisa
Sangritha Pamagari Rimagari Padanisa
Sa Sa Sa
Chorus: Sa Sa Sa
Ri Ri Ri
Chorus: Ri Ri Ri
Ga Ga Ga
Chorus: Ga Ga Ga
Sa Ssa Sa Ri Rri Ri
Ga Gga Ga Ma Ma Mma
Papa Papa Sa Ssa Sa Ssa
Ni Nni Ni Nni Sa
Chorus: Sa
Sa
Chorus: Sa
Saara Sagritha Pamagari Melam
Saandhra Madhurima Maayoru Melam Ennane
Chorus: Ennane
Hoi Hoihoi Ennane
Chorus: Ennane
Enguma Bhangiyil Mungi Vilangi
Vilangi Mayangi Murungi Muzhungiya
Rangilorungiya Mangala Pandhal
Ararum Mansil Ninnorikalum Markuvan
Avatha Vidhamullathaaya Ella
Adambrangalu Onnayi Kottiketti Kondadunnaa
Anandamritha Kalliyanam
Kandathhil Thirimani Chilambukal Thaliritt Kilungana Kolukalal
Thanathandha Thannaa Thandha Thakritha Thakritha Thakritha
Thaaakritha Thalamil Cherinjadi Churinjadi Marinjadi Thirinjodikal
Joraale
Chorus: Joraale
Nadkum Marupuram Joraale
Chorus: Joraale
Vaale Paricha Urumi Pantham Veshidumbol Endhoru Chandham
Jil Jil Jil
Chorus: Jil Jil Jil
Jil Jil Ho Zhil Zhil Zhil
Chorus: Zhil Zhil Zhil
Zhil Zhil Zhil Mil Mil Mil
Chorus: Mil Mil Mil
Thom Thithaka Thaka Thaka Thaithom
Thaalam Tarikida Dhanu Chunu Sarigama
Sarigama Padanisa
Chorus: Sarigama Padanisa
Sanidapa Magarisa
Chorus: Sanidapa Magarisa
Sarigama Padanisa Sanidapa Magarisa
Sangritha Pamagari Rimagari Padanisa
Sa Sa Sa
Chorus: Sa Sa Sa
Ri Ri Ri
Chorus: Ri Ri Ri
Ga Ga Ga
Chorus: Ga Ga Ga
Sa Ssa Sa Ri Rri Ri
Ga Gga Ga Ma Ma Mma
Papa Papa Sa Ssa Sa Ssa
Ni Nni Ni Nni Sa
Chorus: Sa
Sa
Chorus: Sa
Saara Sagritha Pamagari Melam
Sandhra Madhurima Maayoru Melam Ennane
Chorus: Ennaane
Hoi Hoihoi Ennaane
Chorus: Ennane
Enguma Bhangiyil Mungi Vilangi
Vilangi Mayangi Murungi Muzhungiya
Rangilorungiya Mangala Pandhal
Aararum Manasil Ninnorikkalum Markuvaan
Avaatha Vidhamullathaaya Ellaam
Aadambarangalu Onnaai Koottiketti Kondaadunnaa
Anandhaamrudha Kalyaanam
Comments
comments