May 18, 2023
Ajayante Randam Moshanam Cast & Crew | Trailer | Release Date | Review
Ajayante Randam Moshanam Cast & Crew | Trailer | Release Date | Review: Ajayante Randam Moshanam is an upcoming Malayalam film, written by Nambiar and directed by Jithin Laal. The film was produced by Dr. Zacharia Thomas, Listin Stephen under the banner UGM, and Magic Frames.
Ajayante Randam Moshanam Cast & Crew
Ajayante Randam Moshanam cast includes Tovino Thomas [triple role], Ajayan, Maniyan, Kunjikelu, Krithi Shetty, Aishwarya Rajesh, Surabhi Lakshmi, Basil Joseph, Shivajith, Aju Varghese, Harish Uthaman, Rohini, Pramod Shetty, Hareesh Peradi, Sanju Sivram, Jagadish, and others.
Ajayante Randam Moshanam crew includes Music by Dhibu Ninan Thomas, Cinematography Jomon T. John, Edited by Shameer Muhammed, Casting By Shaneem Zayed, and others.
Ajayante Randam Moshanam Story
Set in the Northern Kerala in 1900, 1950 and 1990, Three generations of heroes Maniyan, Kunjikelu and Ajayan, try to protect the most important treasure of the Land.
Ajayante Randam Moshanam Trailer
Ajayante Randam Moshanam announcement teaser, a previsualization glimpse was released on Oct 13, 2022. Ajayante Randam Moshanam official teaser will be released on 19 May 2023 in multiple languages. Prithviraj Sukumaran will release the Malayalam teaser. Ajayante Randam Moshanam [ARM] Hindi teaser will be released by actor Hrithik Roshan.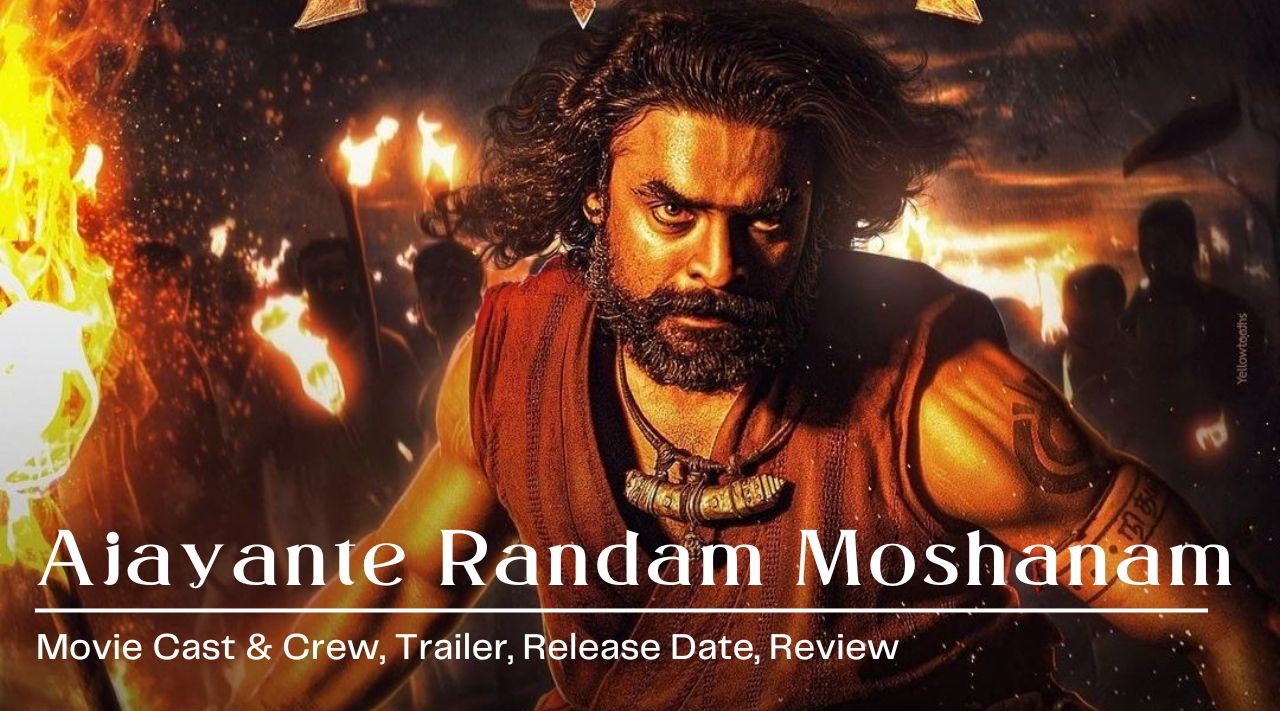 Ajayante Randam Moshanam Cast & Crew | Trailer | Release Date | Review
Directed By: Jithin Laal
Director Of Photography: Jomon T John I.S.C.
Written By: Sujith Nambiar
Produced By: Dr. Zachariah Thomas & Listin Stephen
Original Music And Bgm: Dhibu Ninan Thomas
Editor: Shameer Muhammed
Additional Screenplay: Deepu Pradeep
Co-Producer: Sreejith Ramachandran, Prince Paul
Executive Producer: Dr. Vineeth Mb
Project Designer: Badusha Nm
Finance Controller: Shijo Dominic
Production Design: Gokuldas
Costume Design: Praveen Varma
Make-Up: Ronex Xavier
Stunts: Vikram Mor, Stunner Sam
Creative Director: Dipil Dev
Casting Director: Shaneem Zayed
Production Controller: Prince Raphel
Production Executive: Liju Naderi
Chief Associate Director: Sreelaal
Associate Directors: Sharath Kumar Nair, Sreejith Balagopal
Concept Art & Storyboard: Manoharan Chinnasamy
Lyrics: Manu Manjith
Vfx: Dtm, Mindstein Studios, Binary Circus
Sound Design: Sync Cinema
Audiography: M. R. Rajakrishnan
Previsualization: Tiltlabs
Stills: Bijith Dharmadam
Publicity Designs: Yellowtooth
Marketing Designing : Puppet Media
Pro : Vaisakh C Vadakkeveedu, Jinu Anilkumar, Shivaprasad.
ajayante randam moshanam cast
ajayante randam moshanam teaser
Ajayante randam moshanam story
ajayante randam moshanam budget
Ajayante randam moshanam wikipedia
ajayante randam moshanam location
ajayante randam moshanam actress
Ajayante randam moshanam movie download
ajayante randam moshanam ott release date
ajayante randam moshanam trailer
Comments
comments