April 13, 2020
Dr. Rajkumar and Saritha Kannada Movies List | Rajkumar Films
Dr. Rajkumar and Saritha Kannada Movies List | Rajkumar Films : Dr. Rajkumar and Actress Saritha have acted together in Five Kannada films from 1981 to 1983.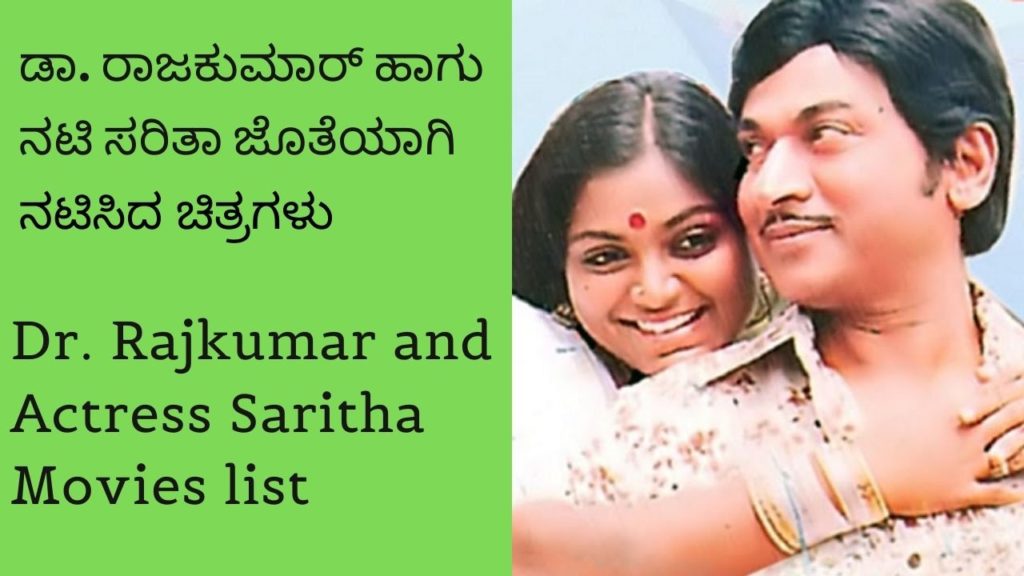 1. Keralida Simha [1981] : Dr Rajkumar and Actress Saritha paired up for the first time onscreen for this 1981 Kannada film Keralida Simha, directed by Chi Dattaraj. Saritha played a role of a lawyer. The film became successful and the pair went onto act in four more hit movies.
Keralida Simha features Dr. Rajkumar, Saritha, Pandari Bai, Thoogudeepa Srinivas, Srinivasa Murthy, Shakti Prasad, Sudheer, Honnavalli Krishna, and others. Chellapilla Satyam was the music director of this film. Songs 'Ondu Maathu Nanage Gotthu' and 'Amma Neenu Namagaagi' written by Chi. Udayashankar became super hit songs.
2. Hosa Belaku [1982] : After the success of Keralida Simha, The pair of Rajkumar and Saritha came together for the second time for Hosa Belaku directed by Dorai – Bhagwan in 1982. Saritha played a role of Vatsala, A step-daughter who was ill treated by her step- mother. Rajkumar played a role of Ravi – Brother of Vatsala's step-mother. Ravi and Vatsala falls in love and it creates lot of issues in the family. How Ravi and Vatsala resolves these issues is the crux of the story.
Hosa Belaku got some evergreen hit songs composed by music director M. Ranga Rao. Songs like 'Ravi Neenu Aagasadinda', 'Hosa Belaku', 'Cheluveye Ninna Nodalu', 'Theredide Mane' are still favorites of Kannada music lovers. Hosa Belaku cast includes Rajkumar, Saritha Srinivasa Murthy, Mamatha Rao, K. S. Ashwath, Shivaram, Master Lohith, and others.
3. Chalisuva Modagalu [1982] : Chalisuva Modagalu directed by Singeetham Srinivasa Rao is the third film of Dr. Rajkumar and Saritha together. Apart from Dr. Rajkumar and Saritha, This 1982 film featured – Ambika, K. S. Ashwath, Pandari Bai, Shivaram, Thoogudeepa Srinivas, Advani Lakshmi Devi, and others.
Chalisuva Modagalu became a super hit movie and the third consecutive hit of Dr. Rajkumar and Saritha. The film has got hit songs like 'Jenina Holeyo', 'Neenello Naanalle', 'Chandira Thanda', 'Kaanadante Maayavadanu' rendered by Puneeth Rajkumar. songs were composed by Rajan-Nagendra and Chi. Udaya Shankar write the lyrics. Rajkumar and S. Janaki rendered the songs.
4. Kaamana Billu [1983] : After delivering the hit movie with the pair of Dr Rajkumar and Saritha, director Chi Dattaraj once again bought the pair of Rajkumar and Saritha for the 1983 hit movie Kaamana Billu based on the Kannada novel 'Mrugathrushna' by writer Ashwini.
Kaamana Billu fatures Rajkumar, Anant Nag, Saritha, Balakrishna, K. S. Ashwath, Thoogudeepa Srinivas, M. S. Umesh, Rajanand, Mysore Lokesh and others. Upendra Kumar was the music director and Chi. Udaya Shankar was the lyricist. Songs 'Kannu Kannu Kalethaga', 'Indu Ananda Naa Thalalare' rendered by Rajkumar and Vani Jairam became popular songs.
5. Bhaktha Prahlada [1983] : After giving four consecutive hit movies, the onscreen pair of Rajkumar and Saritha came together for one last time for director Vijay's 1983 mythological film Bhaktha Prahlada. while Rajkumar played Hiranyakashipu [one of his unforgettable performances], Saritha essayed the role Kayadu wife of Hiranyakashipu. Interestingly Master Lohith [Puneeth Rajkuamr] played the role Prahlada.
Songs of this film was penned by Chi. Udaya Shankar and composed by T. G. Lingappa. The film became a blockbuster adding one more feather to the successful combination of Rajkumar and Saritha.
List of Dr. Rajkumar and Saritha Combo Movies
| | | | |
| --- | --- | --- | --- |
| Movie | Year | Director | Music |
| Keralida Simha | 1981 | Chi Dattaraj | Satyam |
| Hosa Belaku | 1982 | Dorai-Bhagavan | M. Ranga Rao |
| Chalisuva Modagalu | 1982 | Singeetham Srinivasa Rao | Rajan-Nagendra |
| Kaamana Billu | 1983 | Chi. Dattaraj | Upendra Kumar |
| Bhaktha Prahlada | 1983 | Vijay | T. G. Lingappa |
Comments
comments