December 18, 2017
Nodrappa Nammovnu Agbutta Song Lyrics
Nodrappa Nammovnu Agbutta Song Lyrics: Nodrappa Nammovnu Agbutta is a song from an upcoming Kannada movie Bruhaspati, directed by Nanda Kishore and produced by Rockline Venkatesh under Rockline Entertainments Banner. Bruhaspati [2018] features Manoranjan Ravichandran and Mishti Chakravarty and others. Junglee Music is the music label of this movie. This Song was composed by V. Harikrishna with lyrics penned by Yogaraj Bhat. Nodrappa Nammovnu Agbutta song was rendered by Tippu.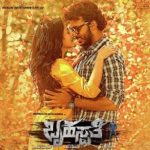 Nodrappa Nammovnu Song Lyrics
Album: Bruhaspati [2018]
Music Label: Junglee Music
Music: V. Harikrishna
Lyrics: Yogaraj Bhat
Singers: Tippu
Check out the lyrics here..
Nodrappa Nammovnu Agbutta Ravichandrannu
Paarvaala Hidkondu Haadthavne Lovveu Songannu
Papa Goththildene Pakkad Mane Baadge Avle Hudugi
Paapi Nammavanu Naaku Paisa Kelsa Illada Badagi
Kannugaleradu Serikondare
Thusu Thondare
Innenaguvudu Heli Maanyare
Areaag Inthavnobba Iddare
Silentu Shakira Locallu Phakira
Ibru Walking Hogtha Avre Daari Bidrappa
Kaiyige Kai Thagsi Enagilla Anno Thara Naguthane
Kaalu Unguruda Rate-U Paatu Kelikondu Bandavne
Hudugige Chure Churu Anumana
Ivan Olleyvna Illa Kettavna
Helade Kelade Hathra Bandavne
Bittare Maththe Sigthana
Kannalle Kobbari Thinthavre Ibbaru
Solpoththalli Thabkobodu Kannu Muchrappa
Enappa Enaythu
Nodrappa Nammovnu Agbitta Ravichandrannu
Bruhaspati [2018] Songs:
Damaru Damaru Dam
Nodrappa Nammovnu
Aagale Beku Naavu
Amma Nannamma Kanda Annamma
Ontharadali Ella Haayagide
Dandam Dashagunam Ikku Mari
Comments
comments