March 7, 2019
Heege Doora Lyrics Video Released | 99 | Ganesh
Heege Doora Lyrics Video Released | 99 | Ganesh: Heege Doora is a first single released from an upcoming Kannada movie 99, directed by Preetham Gubbi. Heege Doora Lyrics Video Released few days ago in YouTube is getting good response from the viewers.
Heege Doora lyrics were penned by famous lyricist Kaviraj and the song was composed by music director Arjun Janya. This film marks 100th film of Arjun Janya as a composer. Heege Doora song was rendered by singer Vijay Prakash. Anand Audio is the music label of this movie.
Heege Doora Lyrics Video contains few montage of pictures of Both Ganesh and Bhavana. The video starts with Ganesh in a sad look, then there are few shots of Ganesh and Bhavana together in state of agony perhaps of the imminent separation. There are few flashback scenes of school days memories when Ganesh visits his school and sits in the classroom bench and getting nostalgic. in the flashback we can see the younger version of the lead characters and their interaction in school. The shots moves back and forth in time with Ganesh in very gloomy look with beard.
The lyrics penned by Kaviraj implies this separation. The beginning lines which says 'If simply Sun leaves the sky, then the earth will become orphan' and 'If you leave this poor fellow in the middle like this with agony' suggest that the Bhavana character is leaving Ganesh for some reason. because of which Ganesh is suffering.
There is one more interesting line 'Before leaving please tell me the reason', so may he seeking the explanation for this separation. This is pathos song of separation with good hear touching lyrics. in the end of the song there is line 'Where ever you will be, be happy and the memories should haunt you a bit'.
99 features Golden Star Ganesh, Bhavana and others. Bhavana is a Malayalam actress who acted in few Kannada movies like Jackie [2010], Vishnuvardhana [2010], Romeo [2012], Mukunda Murari [2016], Chowka [2017], Tagaru [2018] and others.
The director of this movie Preetham Gubbi is the grandson of the theater artist Gubbi Veeranna. Some of the earlier movies directed by Preetham Gubbi includes Haage Summane [2008], Maleyali Jotheyalim [2009], Johny Mera Naam Preethi Mera Kaam [2011], Naanu Mattu Varalakshmi [2016], Johnny Johnny Yes Papa [2018] and others.
99 Kannada movie is remake of 2018 Tamil film 96 starring Vijay Sethupathi and Trisha, directed by C. Prem Kumar. 99 Kannada film was produced by Ramu under the banner Ramu Enterprises. Santhosh Rai Pathaje is the cinematographer of this film.
Check out the Heege Doora Lyrics Video Released in Yoututbe and express your opinion..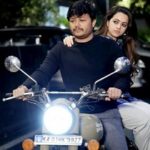 Heege Doora Song Lyrics
Movie: 99 [2019]
Music: Arjun Janya
Lyrics: Kaviraj
Singer: Vijay Prakash
Artist: Ganesh, Bhavana
99 [2019] Kannada Movie Songs
Song: Naa Sanihake Innu
Lyrics: Kaviraj
Singer: Shreya Ghoshal
Song: Navilugari
Lyrics: Kaviraj
Singer: Shreya Ghoshal
Song: Heege Doora Female
Lyrics: Kaviraj
Singer: Shreya Ghoshal
Song: Gamyave
Lyrics: Kaviraj
Singer: Armaan Malik
Song: Anisuthide
Lyrics: Kaviraj
Singers: Sanjith Hegde, Shreya Ghoshal
Song: Nee Gnyapaka
Lyrics: Kaviraj
Singers: Sonu Nigam, Palak Muchhal
Song: Aagide Aagide
Lyrics: Kaviraj
Singers: Keerthan Holla, Manasa Holla
Comments
comments