May 19, 2019
Joru Paattu Lyrics Video Released | Amar | Abishek Ambareesh
Joru Paattu Lyrics Video Released | Amar | Abishek Ambareesh: Music by Arjun Janya and lyrics by Kiran Kaverappa. Singer Jassie Gift | Tanya Hope, Devaraj, Sudharani, Sadhu Kokila
Joru Paattu Lyrics Video Released | Amar | Abishek Ambareesh: Joru Paattu Kannada song lyrics video from the upcoming movie Amar is released in YouTube and the video is trending now. Amar marks the debut of Abishek Ambareesh – song of the legendary Kannada actor Ambareesh and actress Sumalatha.
Amar was written and directed by Nagshekar and produced by Sandesh Nagaraj and N.Sandesh under the banner Sandesh Productions. The film features Abishek Ambareesh, Tanya Hope, Devaraj, Sudharani, Sadhu Kokila, Chikkanna, Deepak Shetty and others. Actors Darshan, Rachita Ram and Anup Bhandari are making a special appearance in this newly released Joru Paattu song.
The team of Amar, released the first video of the song 'Marethu Hoyithe' sung by Sanjith Hegde on April 5th in YouTube. Followed by this two more songs "Summane Heege Ninnane' – a romantic number rendered by Shreya Ghoshal and Sonu Nigam, 'Onde Aetige' written by Kaviraj and sung by singers Armaan Malik and Shreya Ghoshal.
Joru Paattu song lyrics were written by upcoming Kannada lyricist Kiran Kaverappa. The song was composed by music director Arjun Janya. Joru Paattu song was rendered by Jassie Gift. This Joru Paattu song lyrics is in Kodava and Tulu languages, add this attempt adds a different color to the song. When hear the song for the first time it sounds unusual.
The visuals in the video suggests that it might be party song. we can see few snaps of Dasrhan, Rachita Ram, Anup Bhandari, music director Arjun Janya, Devraj shacking their legs to the tunes. but the thing is you cant understand the lyrics as they are not in Kannada.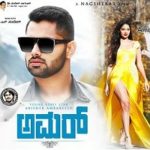 Joru Paattu Kannada Song Lyrics
Movie: Amar [2019]
Music: Arjun Janya
Lyrics: Kiran Kaverappa
Singer: Jassie Gift
Cast: Abishek Ambareesh, Tanya Hope, Sudharani, Devaraj
Lets look at some of the hit songs of lyricist Kiran Kaverappa, who has written Joru Paattu song lyrics.
1. Neenire Saniha from Kirik Party [2016]
2. Ranga Bhoomiya form Godhi Banna Sadharana Mykattu [2016]
3. Jogulave from Pushpaka Vimana [2017]
4. Nee Nadeda Daariyali from Ayana [2017]
5. Mental Ho Jawa from Tagaru [2018]
6. VTU We Really Love You from Gultoo [2018]
7. Amma from Edakallu Guddada Mele [2018]
8. Rangeride Manasina Beedi from Vaasu Naan Pakka Commercial [2018]
9. Dheemtha, Daariya Kaledukondide, Bhoomi Baana Kaadambari from Katheyondu Shuruvagide [2018]
10. Doora Doora Lyrics from Baddi Magan Lifu [2018]
Singer of the song is Jassie Gift of "Lajjavathiye fame. This malayalam artist have some hit Kannada songs as well. He made his forey into Kannada films as a composer throuh the 2007 movie Hudugaata starring Ganesh and Rekha Vedavyas. Songs Stylo Stylo, Ommomme Heego and Eno Onthara.. became chartbusters. some of his memorable works in Kannada includes movies like Sanju Weds Geetha, Shyloo, Kiladi Kitty, Galaate, Myna, Aryan, Male, Love You Alia, Style, Prema Baraha and others.
Amar [2019] Kannada Movie Songs
Marethu Hoyithe
Movie: Amar [2019]
Music: Arjun Janya
Lyrics: Kaviraj
Singer: Sanjith Hegde
Summane Heege Ninnane
Movie: Amar [2019]
Music: Arjun Janya
Lyrics: Kaviraj
Singers: Shreya Ghoshal, Sonu Nigam
Onde Aetige
Movie: Amar [2019]
Music: Arjun Janya
Lyrics: Kaviraj
Singers: Armaan Malik, Shreya Ghoshal
Joru Paattu
Movie: Amar [2019]
Music: Arjun Janya
Lyrics: Kiran Kaverappa
Singer: Jassie Gift
Comments
comments