July 15, 2018
Yavvi Yaravvi Ivalu Lyrics | Kurubana Rani
Yavvi Yaravvi Ivalu Lyrics | Kurubana Rani : Yavvi Yaravvi Ivalu is a famous song from the 1998 Kannada movie Kurubana Rani directed by D. Rajendra Babu. The film was produced by Rockline Venkatesh under his home production Rockline Studios.
The film was released in 1998 starring Shiva Rajkumar, Nagma, Sumithra, Lokesh, Mukhyamantri Chandru, C. R. Simha, Sihi Kahi Chandru, Lakshman, Bank Janardhan, Hema Choudhary, Mandeep Roy and others.
Akash Audio was the music label of this movie. This song was composed by V. Manohar with lyrics penned by K. Kalyan. Yavvi Yaravvi Ivalu song was rendered by Rajesh Krishnan.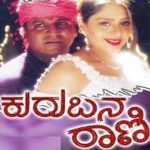 Yavvi Yaravvi Ivalu Lyrics | Kurubana Rani
Movie: Kurubana Rani [1998]
Music Label: Akash Audio
Music: V. Manohar
Lyrics: Doddarange Gowda
Singer: Rajesh Krishnan
Check out the lyrics…
Yavvi Yaravvi Ivalu Helele
Suvvi Suvvale Haade Komale
Yavvi Yaravvi Ivalu Helele
Suvvi Suvvale Haade Komale
Thandaana Thandaana Bandaalo Chanchale
Chandaana Chandana Thandaalo Sheethale
Yavvi Yaravvi Ivalu Helele
Suvvi Suvvale Haade Komale
Yavvi Yaravvi Ivalu Helele
Suvvi Suvvale Haade Komale
Kolu Mallige Kolu Kole
Kolu Sampige Kolu Kole
Cha Cha Cha Cha
Kolu Mallige Kolu Kole
Kolu Sampige Kolu Kole
Cha Cha Cha Cha
Hasiraada Holaddage Athlaage Ithlaage
Huchchellu Koogaadyaave
Han Kembaara Mugilaage Chukkiyu Holedange
Bellakki Haaradyaave
Halla Kolla Haridadyave Alle Kuri Myake Negedaadyaave
Chendulli Chelveru Saagyaavre Saalaagi
Tin Tini Kalgejje Nud'daave Vainaage
Yavvi Yaravvi Ivalu Helele
Suvvi Suvvale Haade Komale
Yavvi Yaravvi Ivalu Helele
Suvvi Suvvale Haade Komale
Reeeeee Thana Na Thandaano Thandaane Nenen Nee Naa
Therige Baadinoota
Therige Paaysad Oota
Doordaage Bettagalu Theppgene
Devrange Sumkene Kunthkondave
Ele Balli Maradaage Ondkondu Thabkondu
Sompaagi Meredaadyaave
Kaadu Medu Maathadyaave
Haadi Anku Donku Ollladyaave
Bhooloka Rangaagi Swargaane Aagaithe
Kuri Mande Meykondu Haayagi Saagaithe
Yavvi Yaravvi Ivalu Helele
Suvvi Suvvale Haade Komale
Yavvi Yaravvi Ivalu Helele
Suvvi Suvvale Haade Komale
Thandaana Thandaana Bandaalo Chanchale
Chandaana Chandana Thandaalo Sheethale
Yavvi Yaravvi Ivalu Helele
Suvvi Suvvale Haade Komale
Yavvi Yaravvi Ivalu Helele
Suvvi Suvvale Haade Komale
Baare Baare Bindigeya
Banna Bannada Preethi
Baaravva Bhageerathi
Kappe Chippu Goodalli
Mangalya Mangalya
Thaali Thaali
Yavvi Yaravvi Ivalu
Comments
comments