July 15, 2018
Mangalya Mangalya Lyrics | Kurubana Rani
Mangalya Mangalya Lyrics | Kurubana Rani : Mangalya Mangalya is a famous song from the 1998 Kannada movie Kurubana Rani directed by D. Rajendra Babu. The film was produced by Rockline Venkatesh under his home production Rockline Studios.
The film was released in 1998 starring Shiva Rajkumar, Nagma, Sumithra, Lokesh, Mukhyamantri Chandru, C. R. Simha, Sihi Kahi Chandru, Lakshman, Bank Janardhan, Hema Choudhary, Mandeep Roy and others.
Akash Audio was the music label of this movie. This song was composed by V. Manohar with lyrics penned by K. Kalyan. Mangalya Mangalya song was rendered by K. S. Chithra.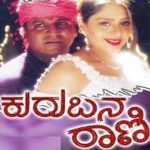 Mangalya Mangalya Lyrics | Kurubana Rani
Movie: Kurubana Rani [1998]
Music Label: Akash Audio
Music: V. Manohar
Lyrics: K. Kalyan
Singer: K. S. Chithra
Check out the lyrics here…
Mangalya Mangalya Muththide
Hennige Shrungaaravu
Mangalyavembudu Kula Naarige
Nithya Sowbhagyavu
Nagavu Ide Naguvu Ide
Jagavellavu Haaraisuva
Mukkoti Devara Saakshi Ide
Mangalya Mangalya Muththide
Hennige Shrungaaravu
Mangalyavembudu Kula Naarige
Nithya Sowbhagyavu
Mangalya Vembodu
Kalachiduva Saravalla
Bidisadiro Gantu Idu
Gandaagi Hennagi Iddavaru
Ganda Hendiraago Nantu Idu
Sukhavene Novene Bandaagalu
Kangedade Kaayodu Pathi Dharmavu
Pathi Haakida Gere Daatade
Ithi Mithiyaliruvude Sathi Dharmavu
Mangalya Mangalya Muththide
Hennige Singaaravu
Mangalyavembudu Kula Naarige
Nithya Sowbhagyavu
Kai Hididu Nadeyola
Kai Bittu Nadedaare
Swargadalu Naraka Ide
Kannago Sathi Manige
Kanniru Thandaare
Yeligeya Maathellide
Kadevaregu Kaadiruva Aane Ide
Vamshaana Belesuva Varavu Ide
Reppeyalli Kandantheye
Hennthanava Kaapado Horeyu Ide
Mangalya Mangalya Muththide
Hennige Singaaravu
Mangalyavembudu Kula Naarige
Nithya Sowbhagyavu
Nagavu Ide Naguvu Ide
Jagavellavu Haaraisuva
Mukkoti Devara Saakshi Ide
Mangalya Mangalya Muththide
Hennige Shrungaaravu
Mangalyavembudu Kula Naarige
Nithya Sowbhagyavu
Baare Baare Bindigeya
Banna Bannada Preethi
Baaravva Bhageerathi
Kappe Chippu Goodalli
Mangalya Mangalya
Thaali Thaali
Yavvi Yaravvi Ivalu
Comments
comments