July 16, 2021
Kanmani Anbodu Kadhalan Lyrics Meaning | Gunaa | Kamal Haasan
Kanmani Anbodu Kadhalan Lyrics Meaning | Gunaa | Kamal Haasan: Kanmani Anbodu Kadhalan is a very popular Tamil song from the 1991 film 'Gunaa', directed by Santhana Bharathi and produced by Alamelu Subramaniam under the banner Swathi Chithra International.
The story of the film was written by Sab John and dialogues were penned by writer Balakumaran. Gunaa features Ulaganayagan Kamal Haasan, Roshini, Rekha, S. Varalakshmi, Janagaraj, S. P. Balasubrahmanyam, Girish Karnad, Sharat Saxena, Kaka Radhakrishnan, Ajay Rathnam, Pradeep Shakthi, Ananthu, Sethu Vinayagam, and others.
Kanmani Anbodu Kadhalan lyrics were penned by poet Vaali and the song was composed by Isaignyani Ilaiyaraaja. This song was rendered by playback singer S. Janaki and actor Kamal Haasan himself. The telugu version of the song was written by lyricist Vennelakanti and sung by S. P. Balasubrahmanyam and S. P. Sailaja.
Kanmani Anbodu Kadhalan song was in the format of conversation, quite different from typical film songs. This song has beautiful lyrics and composition. The making of the song was also beautiful with some great performance by the actors. so all these elements came together and made the song a evergreen hit.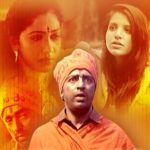 Kanmani Anbodu Kadhalan Lyrics
Movie: Gunaa [1991]
Music: Ilaiyaraaja
Lyrics: Vaali
Singers: S. Janaki, Kamal Haasan
Music Label: Rajshri Tamil
Check out 'Kanmani Anbodu Kadhalan Lyrics' here..
Kanmani Anbodu Kadhalan
Naan Naan Ezhuthum Kadidham Letter Che Kadidaasi
Illa Kadidham Ne Irukattum
Padi
Kanmani Anbodu Kadhalan
Naan Ezhudhum Kadidhame
Paattaave Paduchuttiya
Appo Naanum
Modhalla Kanmani Sonneela
Inga Ponmani Pottukka
Ponmani Un Veetla Sowkiyama
Naa Inga Sowkiyam
Ponmani Un Veettil Sowkiyama
Naan Ingu Sowkiyame
Unna Nenachu Paakkum Podhu
Kavidhai Manasula Aruvi Maari Kottudhu
Aana Adhai Eludhanumnu Ukkaandha
Andha Eluththu Thaan Vaarthai
Unnai Enni Paarkkaiyil Kavidhai Kottudhu
Adhaan
Adhai Ezhudha Niniakkaiyil
Vaarthai Muttudhu
Adheythaan Aaha Pramaadham
Kavidhai Kavidhai
Padi
Kanmani Anbodu Kadhalan
Naan Eluthum Kadidhame
Ponmani Un Veettil Sowkiyama
Naan Ingu Sowkiyame
Unnai Enni Paarkaiyil
Kavithai Kottuthu
Adhai Ezhudha Ninaikkaiyil
Vaarthai Muttudhu
Oho Kanmani Anbodu Kadhalan
Naan Eluthum Kadithame
Ponmani Un Veettil Sowkiyama
Naan Ingu Sowkiyame
Enakku Undana Kaayam
Adhu Thannaala Aaridum
Adhu Ennavo Theriyala
Enna Maayamo Theriyala
Enakku Onnume Aavaradhu Illa
Idhaiyum Eluthikka
Naduvula Naduvula
Maane Thene Pon Maane
Idhellaam Pottukkanum
Idho Paaru Enakku Enna Kaayamnaalum
En Odambu Thaangidum
Un Odambu Thaanguma
Thaangaadhu
Abhiraami Abhiraami
Adhaiyum Ezhudhanumaa
Haahaan Adhu Kaadhal
En Kaadhal Ennanu Sollaama
Yenga Yenga Azhugaiyaa Varudhu
Aana Naa Aludhu En Sogam Unnai Thaakkidumo
Apdinu Nenaikkum Podhu
Varra Azhugai Kooda Ninnuduthu
Manidhar Unarndhu Kolla
Idhu Manidha Kaadhal Alla
Adhaiyum Thaandi Punidhamaanadhu
Undaana Kayamengum
Thannaale Aaripona Maayam Enna
Pon Maane Pon Maanae
Enna Kaayam Aana Pothum
En Meni Thaangi Kollum
Unthan Meni Thaangaathu Senthenae
Endhan Kadhal Ennavendru
Sollaamal Yenga Yenga Azhugai Vandhadhu..
Endhan Sogam Unnai Thaakkum
Endrennumbothu Vandha Alugai Nindradhu..
Manidhar Unarndhu Kolla
Idhu Manidhar Kaadal Alla
Adhaiyum Thaandi Punithamaanathu
Abhiraamiye Thaalaattum Saamiye
Naan Thaane Theriyumaa
Sivagaamiye Sivanil Neeyum Paadhiye
Adhuvum Unakkum Puriyuma..
Suva Laali Laaliye Laali Laaliye
Abhiraami Laaliye Laali Laaliye
Abhiraamiye Thaalaattum Saamiye
Naanthaane Theriyumaa
Unakku Puriyumaa
Lalala.. Oho..
Gunaa [1991] Tamil Movie Songs List
Song: Kanmani Anbodu Kadhalan
Lyrics: Vaali
Vocals: Kamal Haasan, S. Janaki
Song: Paartha Vizhi
Lyrics: Abirami Pattar
Vocals: K. J. Yesudas
Song: Appan Endrum
Lyrics: Vaali
Vocals: Ilaiyaraaja
Song: Unnai Naan
Lyrics: Vaali
Vocals: S. Janaki, Ustad Sultan Khan
Song: Unnai Naan [Bit]
Lyrics: Vaali
Vocals: S. Varalakshmi
Song: Nayaki Nayakan
Lyrics: Abirami Pattar
Vocals: Chorus
Song: Oyilala
Vocals: Chorus
Gunaa [1991] Telugu Movie Songs List
Song: Pichi Brahma
Lyrics: Vennelakanti
Vocals: Madhavapeddi Ramesh
Song: Unna Nekorake
Lyrics: Vennelakanti
Vocals: S. P. Balasubrahmanyam, S. P. Sailaja
Song: Sambhavi
Lyrics: Vennelakanti
Vocals: S. P. Balasubrahmanyam & Chorus
Song: Kammani Ee Premalekhani
Lyrics: Vennelakanti
Vocals: S. P. Balasubrahmanyam, S. P. Sailaja
Song: Koilalo Vennelakanti
Vocals: Swarnalatha & Chorus
Song: Pelli Pelli
Reprised Tamil old song 'Kalyanam aaha kalyanam' from the movie 'Pen'
Comments
comments