July 7, 2022
Arerere Gini Rama Lyrics
Arerere Gini Rama Lyrics: Arerere Gini Rama is a super hit song from the 1973 Kannada film 'Gandhada Gudi', directed by Vijay and produced by M. P. Shankar under the banner Bharani Chithra.
Gandhada Gudi features Dr. Rajkumar, Kalpana, Vishnuvardhan, M. P. Shankar, Narasimharaju, Balakrishna, H. R. Shastry, Malur Sonnappa, Anand Shekhar, Tiger Prabhakar, Xavier, Cheluvaraju, Abdul Azis, Borayya, S. A. V. Swamy, Mahadevappa, Nazeer Ahmed, Louis, Sriram, Nandagopal, M. P. Shankar, Advani Lakshmi Devi, B. Jaya, Sampath, Thoogudeepa Srinivas, Shakti Prasad, Baby Prema Kumari, Master Shyam, Master Virupaksh, Master Basavaraj, Master Nataraj,and others.
Arerere Gini Rama Song Lyrics were written by lyricist Chi. Udaya Shankar and the song was composed by music director Rajan-Nagendra. This song was rendered by playback singer P. Susheela. Saregama is the music label of this film.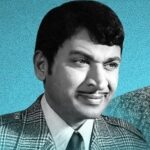 Arerere Gini Rama Lyrics
Movie: Gandhada Gudi [1973]
Music Label: Saregama
Music: Rajan-Nagendra
Lyrics: Chi. Udaya Shankar
Singer: P. Susheela
Check out 'Arerere Gini Rama Lyrics' here..
Arerere Gini Rama
Hoy Pancharangi Rama
Arerere Gini Rama
Hoy Pancharangi Rama
Maathado
Maathado Muddu Gini Rama
Aha Maathado Nanna Putta Rama
Ninnase Nanagaithe
Nina Mele Manasaithe
Nina Kandu Naa Sothe Rama
Nana Bit Oda Bedayya Rama
Arerere Gini Rama
Hoy Pancharangi Rama
Maathado Muddu Gini Rama
Ondu Maathado Nanna Putta Rama
Nene Thanaka Hingilla Naanu Naanagilla
Nene Thanaka Hingilla Naanu Naanagilla
Ninthalli Nilalaarenalla
Ee Thalamalava Naa Thaalenalla
Manushakke Haguragi Thanuvaado Kempage
Mai Batte Bigiyagi Rama
Nanna Ede Bharavaithalla Rama
Aha Iralaare Innu Iralare Ninnabittu Rama
Ondu Maathadu Nanna Putta Rama
Thannada Nadu Hinge Adyadi Kunidhange
Thannada Nadu Hinge Adyadi Kunidhange
Mai Ella Jum Endu Nange
Nina Thabbi Kunthiruvaga Hinge
Munjane Manjinali
Neeralle Mulugirali
Bisiyusira Kaavinda Rama
Mai Baadida Hoovaithu Rama
Uhoo Bidalaare Ninna Bidalare Bangara Rama
Ondu Maathado Nanna Putta Rama
Arerere Gini Rama Hoy Pancharanigi Rama
Maathado Muddu Gini Rama
Ondu Maathado Nanna Putta Rama
Aha Lallala Lalla Rama
Aha Lallala Lalla
Gandhada Gudi [1973] Songs List
1. Naavaaduva Nudiye Kannada
Music: Rajan-Nagendra
Lyrics: Chi. Udaya Shankar
Singer: P. B. Sreenivas
2. Arerere Gini Rama
Music: Rajan-Nagendra
Lyrics: Chi. Udaya Shankar
Singer: P. Susheela
3. Ellu Hogolla Mama
Music: Rajan-Nagendra
Lyrics: Chi. Udaya Shankar
Singers: S. Janaki, P. B. Sreenivas
Comments
comments