July 7, 2022
Ellu Hogolla Mama Lyrics
Ellu Hogolla Mama Lyrics: Ellu Hogolla Mama is a super hit song from the 1973 Kannada film 'Gandhada Gudi', directed by Vijay and produced by M. P. Shankar under the banner Bharani Chithra.
Gandhada Gudi features Dr. Rajkumar, Kalpana, Vishnuvardhan, M. P. Shankar, Narasimharaju, Balakrishna, H. R. Shastry, Malur Sonnappa, Anand Shekhar, Tiger Prabhakar, Xavier, Cheluvaraju, Abdul Azis, Borayya, S. A. V. Swamy, Mahadevappa, Nazeer Ahmed, Louis, Sriram, Nandagopal, M. P. Shankar, Advani Lakshmi Devi, B. Jaya, Sampath, Thoogudeepa Srinivas, Shakti Prasad, Baby Prema Kumari, Master Shyam, Master Virupaksh, Master Basavaraj, Master Nataraj,and others.
Ellu Hogolla Mama Song Lyrics were written by lyricist Chi. Udaya Shankar and the song was composed by music director Rajan-Nagendra. This song was rendered by playback singers S. Janaki and P. B. Sreenivas. Saregama is the music label of this film.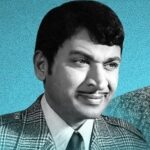 Ellu Hogolla Mama Lyrics
Movie: Gandhada Gudi [1973]
Music Label: Saregama
Music: Rajan-Nagendra
Lyrics: Chi. Udaya Shankar
Singers: S. Janaki, P. B. Sreenivas
Check out 'Ellu Hogolla Mama Lyrics' here..
Ellu Hogolla Naanu Ellu Hogolla
Ellu Hogolla Maama Ellu Hogolla
Endhigu Naanu Ninanu Bittu Dhoora Hogolla
Ellu Hogolla Maama Ellu Hogolla
Chanda Maama Chakkuli Maama
Nannanu Nodi Naguthiruva
Chanda Maama Chakkuli Maama
Nannanu Nodi Naguthiruva
Mutthanu Kottu Kachaguli Ittu
Ninnanu Nagisu Enuthiruva
Kopa Bittu Chukkigaleshtu
Kopa Bittu Chukkigaleshtu
Enisi Helu Baa Maama
Enisi Helu Baa Maama
Mmhhu Helalla Hogu
Ellu Hogolla Maama Ellu Hogolla
Amma Illa Appa Illa Neene Nanegella
Aahahaha
Kopa Nanagilla Kanda Kopa Nanagilla
Endhigu Naanu Ninna Mele Kopa Maadolla
Ellu Hogolla Maama Ellu Hogolla
Ahahaha Aaaa Lalala Lalala Ahahaha Lalala
Howdu Naale Madhuve Aada Mele Gandana Hinde Hogle Bekalla
Naan Madhvene Maadkolalla
Madhuveyu Beku Gandanu Beku
Putaani Makkalu Irabeku
Madhuveyu Beku Gandanu Beku
Putaani Makkalu Irabeku
Madilali Ondu Thottilalondu
Puttiya Kaadutha Alabeku
Aa Notuva Kandu Santhasa Gondu
Aa Notuva Kandu Santhasa Gondu
Naanu Ngaunaguthirabeku
Naanu Ngaunaguthirabek
Ille Irabeku Nanna Jotheyale Irabeku
Endhigu Naanu Ninanu Bittu Dhoora Hogolla
Ellu Hogolla Maama Ellu Hogolla
Gandhada Gudi [1973] Songs List
1. Naavaaduva Nudiye Kannada
Music: Rajan-Nagendra
Lyrics: Chi. Udaya Shankar
Singer: P. B. Sreenivas
2. Arerere Gini Rama
Music: Rajan-Nagendra
Lyrics: Chi. Udaya Shankar
Singer: P. Susheela
3. Ellu Hogolla Mama
Music: Rajan-Nagendra
Lyrics: Chi. Udaya Shankar
Singers: S. Janaki, P. B. Sreenivas
Comments
comments