July 12, 2021
Kshamisi Nimma Khaatheyalli Hanavilla – Olave Lyrics Video Released
Kshamisi Nimma Khaatheyalli Hanavilla – Olave Lyrics Video Released: Kshamisi Nimma Khaatheyalli Hanavilla is a upcoming Kannada film Vinayak Kodsara and produced by Silk Manju, Prajwal Pai under the banner Uppi entertainers.
The first single Olave lyrics video was released yesterday on the official YouTube channel Lahari Music | T-Series and the song is getting good response. Olave Olave song lyrics were penned by Vishwajith Rao and the song was composed by Prajwal Pai. This song was rendered by playback singer Haricharan.
Musicians worked in this song includes Guitars and Bass by Sandeep Mohan, Table by Shruthi, and Flute by Nadan, The song was Mixed and Mastered by Vivek Thomas. Olave Olave song was arranged and Programmed by Prajwal Pai. The song was recorded at Sound Map Studios & 2barQ.
The film features Diganth Manchale, Aindrita Ray, Ranjani Raghavan, and others. Actor Diganth and Aindrita Ray have acted together in few earlier movies like Manasaare [2009], Parijatha [2012], Chowka [2017]. Ranjani Raghavan of Putta Gowri Maduve and Kannadathi serial is also playing a imp role in this film. Her previous movies are Rajahamsa [2017], Takkar [2018], and Sathyam [2019].
The crew of the movie Kshamisi Nimma Khaatheyalli Hanavilla includes Cinematographer Nandakishore N, Editor Rahul Vasista, and Executive Producer Ravindra Joshi, and others.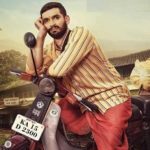 Olave Olave Lyrics
Movie: Kshamisi Nimma Khaatheyalli Hanavilla [2021]
Music: Prajwal Pai
Lyrics: Vishwajith Rao
Singer: Haricharan S
Cast: Diganth, Aindrita Ray, Ranjani Raghavan
Comments
comments