August 10, 2017
Nootana Ee Bhavane Lyrics
Nootana Ee Bhavane Lyrics: Nootana Ee Bhavane [Noothana Ee Bhavane] is a song from the 2017 Kannada movie Ayana, directed by Ganagdhar Salimath. Ayana features Deepak Subramanya, Apoorva Soma, Ramesh Bhat, Nagshree Karkone, Vedashree Rao, Moksha Kushal, Harsha HS, Karthik A, Goutham S and others. This song was composed by Shriyansh Shreeram with lyrics penned by Srikanth Avancha. Nootana Ee Bhavane was rendered by D. Sathyaprakash and Priyanka NK.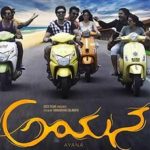 Nootana Ee Bhavane Lyrics
Movie: Ayana [2017]
Music Label: Divo
Music: Shriyansh Shreeram
Lyrics: Srikanth Avancha
Singers: D. Sathyaprakash, Priyanka NK
Check out the lyrics here..
Noothana Ee Bhaavane Modi Maadide
Bhaavada Aa Kalpane Nanna Ninne Kanasu
Nanasu Aada Haage Ninna Roopadalli Eduru Banda Haage
Naguva Ninna Nayana Nanna Manasa Seledide
Kanna Sanneyalle Sanna Maathu Helide
Mounada Sambhashane Pisuguduva Maathige
Hrudayavu Sandeshava Kannalli Needuththide
Naaleya Nanna Loka Ninagaagiye Chinna
Hejje Hejjeyalu Ninna Preethi Maaduve Inna
Premaaaa…
Bhayava Maresi Belaka Needi Daari Thoride
Jagava Marethu Jothege Iruva Aase Moodide
Elliye Nee Hodaru Neralaagi Naa Nilluve
Jeevada Sangaathiyu Nooraaru Janmakku Neene
Nanna Ninna Ee Bhaava Seri Ondaada Jeeva
Pranayada Intha Payana
Madhura Namma Ee Milana
Premaaaa….
Noothana Ee Bhaavane Modi Maadide
Bhaavada Aa Kalpane…
Ninna Roopadalli Eduru Banda Haage
Ayana Kannada Songs
Nee Nadeda Daariyali
Payana Tiruva
Nootana Ee Bhavane
Minchante Minchi
Save
Save
Comments
comments