August 10, 2017
Nee Nadeda Daariyali Lyrics
Nee Nadeda Daariyali Lyrics: Nee Nadeda Daariyali is a song from the 2017 Kannada movie Ayana, directed by Ganagdhar Salimath. Ayana features Deepak Subramanya, Apoorva Soma, Ramesh Bhat, Nagshree Karkone, Vedashree Rao, Moksha Kushal, Harsha HS, Karthik A, Goutham S and others. This song was composed by Shriyansh Shreeram with lyrics penned by Kiran Kaverappa.  Nee Nadeda Daariyali was rendered by Tippu and Anu Anand.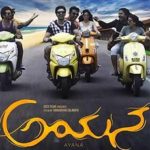 Nee Nadeda Daariyali [Duet] Lyrics
Movie: Ayana [2017]
Music Label: Divo
Music: Shriyansh Shreeram
Lyrics: Kiran Kaverappa
Singers: Tippu, Anu Anand
Check out the lyrics here..
Nee Nadeda Daariyali Naa Huduki Nannane
Maathirade Haathorede Mounadali Summane
Nenapaagiralu Kandiro Hongansau
Danivaradene Nondiro Ee Manasu
Manadaaladalli Helada Maathiralu
Asahayaka Reethili Naa Sothiruve Hele
Doora Nee Doora Saagiralu
Ee Daarili Naa Kaadiruve
Ninagaagi Kaadiruve
Kai Jaarida Kannadi Yaagiruve
Churaagiro Bimbagalu
Ninnaya Roopava Naa Kandiruve
Kaarmodave Aavarisi Jinugiralu Kannaali
Beladingalanu Naa Arasiruve Chandirana Nenapaagi
Mididiralu Nannee Hrudaya Ninna Sanna Dhanigaagi
Thudigaalinalli Ninna Daari Kaadide
Neenerada Naaleyali Kaarmugila Chaaye
Naanariya Daagiruve Aa Vidhiya Maaye
Ayana Kannada Songs
Nee Nadeda Daariyali
Payana Tiruva
Nootana Ee Bhavane
Minchante Minchi
Save
Save
Save
Comments
comments