August 10, 2017
Payana Tiruva Lyrics
Payana Tiruva Lyrics: Payana Tiruva is a song from the 2017 Kannada movie Ayana, directed by Ganagdhar Salimath. Ayana features Deepak Subramanya, Apoorva Soma, Ramesh Bhat, Nagshree Karkone, Vedashree Rao, Moksha Kushal, Harsha HS, Karthik A, Goutham S and others. This song was composed by Shriyansh Shreeram with lyrics penned by Kavya Mallar.  Payana Tiruva was rendered by Ishaan Dev and Madhuri Sheshadri.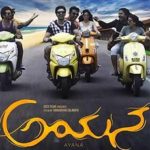 Payana Tiruva Lyrics
Movie: Ayana [2017]
Music Label: Divo
Music: Shriyansh Shreeram
Lyrics: Kavya Mallar
Singers: Ishaan Dev, Madhuri Sheshadri
Check out the lyrics here..
Payana Thiruva Kandayithu Dikku Dikku Seraayithu
Payana Thiruva Kandayithu Hejje Hejje Seraayithu
Hrudyadali Ekaanthadali Meeto Shruthiyu Ninde
Nenapugala Putadalli Kanda Hesaru Nindee
Baala Pathadi Onti Idde Aleye Beli Bande
Sneha Preethi Thoro Reethi Kandu Indu Sothe
Payana Thiruva Kandayithu Hejje Hejje Seraayithu
Giri Betta Dhaare Belmugila Raashiye
Prakruthiya Savidu Node
Hosabaalu Haaside Kushiyanne Haadide
Sahachariye Neeneye Kele
Manasina Ondu Naadalli Kanasina Ondu Goodalli
Hariyuva Spoorthi Nindene Kele
Badukina Nooru Janjaata Geluvige Maado Kaadaata
Guriyanu Seruva Hummasu Neene
Payana Thiruva Kandayithu Dikku Dikku Seraayithu
Payana Thiruva Kandayithu Hejje Hejje Seraayithu
Mangalyam Tantunanena Mama Jeevana Hetuna
Kanthe Badhnami Subhage Twam Jeeva Sarada Satam
Nannolume Premiye Nana Jeeva Bandhuve
Nambikeya Naaleyu Neene
Naguvina Naadave Haridide Ellede
Ullaasa Ninninda Kele
Chikka Chikka Aase Pooraisi Putta Putta Kopa Santhaisi
Prathi Dina Appi Muddado Neene
Kanasanu Kaano Premigu Sogasanu Kelo Aasegu
Preraneya Hakkigalu Naave
Payana Thiruva Kandayithu Hejje Hejje Seraayithu
Payana Thiruva Kandayithu Hejje Hejje Seraayithu
Ayana Kannada Songs
Nee Nadeda Daariyali
Payana Tiruva
Nootana Ee Bhavane
Minchante Minchi
Save
Save
Comments
comments