March 6, 2019
Kumbalangi Nights Songs List | Fahadh Faasil
Kumbalangi Nights Songs List | Fahadh Faasil: Kumbalangi Nights is a 2019 Malayalam movie, directed by Madhu C. Narayanan in his debut directorial venture. The film was written by Syam Pushkaran and produced under the banner Fahadh Faasil and Friends, Working Class Hero by Fahadh Faasil, Nazriya Nazim, Dileesh Pothan and Syam Pushkaran.
Kumbalangi Nights features Fahadh Faasil, Soubin Shahir, Shane Nigam, Sreenath Bhasi, Mathew Thomas, Ramesh Thilak, Anna Ben, Grace Antony, Sooraj Pops, Jasmine Metivier, Riya Saira, Ambika Rao, Ajith Moorkooth, Baiju Johnson, Sheela Rajkumar, Ansal Palluruthy, Dileesh Pothan and others.
Kumbalangi Nights have 6 songs in the album. Kumbalangi Nights Songs were composed by Sushin Shyam. Some of the earlier film works of Sushin Shyam includes Kismath [2016], Ezra [2016], Maradona [2017], Varathan [2018] and Lilli [2018].
Kumbalangi Nights Songs lyrics were written by Anwar Ali, Vinayak Sasikumar, Nezer Ahemed and Sushin Shyam. Singers Sithara Krishnakumar, Anne Amie, Sooraj Santhosh, K. Zia and Akhil Unnikrishnan have lent their voice to the songs along with Sushin Shyam.
Lyricist Anwar Ali has written 2 songs [Cherathukal and Uyiril Thodum] in this movie. Anwar Ali as written songs in the movies like Annayum Rasoolum [2013], Njan Steve Lopez [2014], Kismath [2016], Kammatipaadam [2016], Ezra [2017] and Eeda [2018].
Kumbalangi Nights movie was released on 7 February 2019 and the movie is getting good response from the audience and critics alike.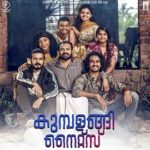 Kumbalangi Nights Songs List
Album: Kumbalangi Nights [2019]
Language: Malayalam
Music Label: Divo
Music by: Sushin Shyam
Lyrics by: Anwar Ali, Vinayak Sasikumar, Nezer Ahemed
Kumbalangi Nights Songs List
Cherathukal
Music by: Sushin Shyam
Lyrics by: Anwar Ali
Vocals by: Sushin Shyam, Sithara Krishnakumar
Uyiril Thodum
Music by: Sushin Shyam
Lyrics by: Anwar Ali
Vocals by: Anne Amie, Sooraj Santhosh
Ezhutha Kadha
Music by: Sushin Shyam
Lyrics by: Vinayak Sasikumar
Vocals by: Sushin Shyam
Silent Cat
Music by: Sushin Shyam
Lyrics by: Nezer Ahemed
Vocals by: K.Zia
Dont Fall
Music by: Sushin Shyam
Lyrics by: Nezer Ahemed
Vocals by: Akhil Unnikrishnan
Lagoon Chill
Music by: Sushin Shyam
Lyrics by: Sushin Shyam
Vocals by: Sushin Shyam
Comments
comments