August 15, 2020
Maa Tujhe Salaam Lyrics | A. R. Rahman Vande Mataram
Maa Tujhe Salaam Lyrics | A. R. Rahman Vande Mataram: Maa Tujhe Salaam is a very popular Hindi song from the 1997 music album 'Vande Mataram' by the Academy Award winner A. R. Rahman to celebrate the Golden Jubilee anniversary of India's independence.
This studio album was produced by A. R. Rahman, Kanika Myer Bharat, and Bharatbala. The album was released on 12 August 1997, three  days before the 50th anniversary of Indian independence.
Maa Tujhe Salaam song lyrics were penned by lyricist Mehboob and the song was composed and rendered by A. R. Rahman. The musicians worked in this song includes Backing vocals by Rita Campbell, Deepika Thathaal, Joy Rose, Chris Ballin, Sophia James and Percussion by Peter Lockett and Guitar by Mark James.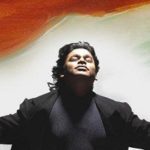 Song: Maa Tujhe Salaam
Album: Vande Mataram [1997]
Music: A. R. Rahman
Vocals: A. R. Rahman
Lyrics: Mehboob
Language: Hindi
Check out the lyrics here..
Yahan Vahan Saara Jahan Dekh Liya Hai
Kahin Bhi Tere Jaisa Koi Nahi Hai
Assi Nahin Sau Din Duniya Ghooma Hai
Naahi Kaahe Tere Jaisa Koi Nahin
Main Gaya Jahan Bhi Bas Teri Yaadh Thi
Jo Mere Saath Thi Mujhko Tadpa Thi Rulati
Sab Se Pyaari Teri Soorat
Pyaar Hai Bas Tera Pyaar Hi
Maa Tujhe Salaam Maa Tujhe Salaam
Amma Tujhe Salaam
Vande Maataram.. Vande Maataram..
Vande Maataram Vande Maataram
Vande Maataram Vande Maataram
Janam Janam Thera Hoon Deewana Main
Jhoomoon Naachoon Gaaoon
Tere Pyaar Ka Taraana Main
Chanda Nahi Suraj Nahi
Duniya Ki Daulat Nahi
Bas Lootunga Tere Pyaar Ka Khazaana
Ek Nazar Jab Teri
Hoti Hai Pyaar Ki
Duniya Tab To Meri
Chamke Damke Maheke Re
Tera Chehra Sooraj Jaisa
Chaand Si Thand Hai Pyaar Mein
Vande Maataram.. Vande Maataram..
Vande Maataram Vande Maataram
Vande Maataram Vande Maataram
Tere Paas Hi Main Aa Raha Hoon
Apni Baahein Khol De
Zor Se Mujhko Gale Laga Le
Mujhko Phir Voh Pyaar De
Tu Hi Zindagi Hai
Tu Hi Meri Mohabbat Hai
Tere Hi Pairon Mein Jannat Hai
Tu Hi Dil Tu Jaan Amma
Maa Tujhe Salaam Maa Tujhe Salaam
Amma Tujhe Salaam Maa Tujhe Salaam
Vande Maataram.. Vande Maataram..
Vande Maataram Vande Maataram
Vande Maataram Vande Maataram
Vande Maataram Vande Maataram
Vande Maataram Vande Maataram
Vande Mataram [1997] Music Album Track List
Song: Maa Tujhe Salaam
Vocals: A. R. Rahman
Lyrics: Mehboob
Song: Revival
Vocals: A. R. Rahman
Lyrics: Bankim Chandra Chatterjee
Song: Gurus of Peace
Vocals: Nusrat Fateh Ali Khan, A. R. Rahman
Lyrics: Mehboob, Tim Cody & Dinesh Kapoor
Song: Tauba Tauba
Vocals: A. R. Rahman
Lyrics: Mehboob
Song: Only You
Vocals: A. R. Rahman
Lyrics: Mehboob
Song: Thai Manne Vanakkam
Vocals: A. R. Rahman
Lyrics: Vairamuthu
Song: Masoom
Vocals: A. R. Rahman
Lyrics: Gulzar
Song: Musafir
Vocals: A. R. Rahman, Faye
Lyrics: Tim Kody, Kanika Myer Bharat
Missing (Vande Mataram)
Instrumental
Comments
comments