August 30, 2023
Aattukkutti Muttai Ittu Lyrics
Aattukkutti Muttai Ittu Lyrics: Aattukkutti Muttai Ittu is a super hit song from the 1977 Tamil film '16 Vayathinile', co-written and directed by Bharathirajaa in his directorial debut. The film was produced by S. A. Rajkannu under the banner Sri Amman Creations.
16 Vayathinile [1977] Tamil film features Kamal Haasan, Sridevi, Rajinikanth, Ganthimathi, Sathyajith, Goundamani, Bhagyaraj, and others. This film was remade in Telugu as Padaharella Vayasu [1978] starring Sridevi, Chandra Mohan, Mohan Babu, in Hindi as Solva Sawan [1979] starring Sridevi, Amol Palekar, and in Malay as Melati Putih [1984].
Aattukkutti Muttai Ittu Song Lyrics were penned by legendary Tamil lyricist Kaviyarasu Kannadasan and the song was composed by music director Ilaiyaraaja. This song was sung by playback singers Malaysia Vasudevan, and S. Janaki. S. Janaki won National Film Award for Best Female Playback Singer for this film.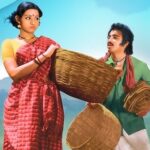 Aattukkutti Muttai Ittu Lyrics
Movie: 16 Vayathinile [1977]
Music: Ilaiyaraaja
Lyrics: Kannadasan
Singers: Malaysia Vasudevan, S. Janaki
Music Label: EMI Records / Saregama
Check out 'Aattukkutti Muttai Ittu Lyrics' here..
Aattu Kutti Muttai Ittu
Kozhi Kutti Vandhadhinnu
Yaana Kunju Solla Kettu
Poona Kunju Sonnadhundu
Kadhayilla Saami
Ippo Kaanudhu Bhoomi
Idhu Mattumdhaana
Innum Irukudhu Saami
Koothumeda Raasavukku..
Koothumeda Raasavukku
Noothirendu Pondaatiyaam
Noothirendu Pondaatiyum
Vaathu Mutta Pottadhuvaam
Pattathu Raani Adhula
Padhinettu Peru
Padhinettu Perkum
Vayasu Iruvathiyaaru
Motham Iruvathiyaaru
Haan
Chinna Kuttigalin Mel Aanai
Indha Sattigalin Mel Aanai
Idhu Valluvanin Yetil Undu
Parambarai Paattil Undu
Kadha Illa Magaraasi
Aatukkutti Muttai Ittu
Kozhikutti Vanthathinnu
Yaana Kunju Sollakettu
Poona Kunju Sonnathundu
Kathayilla Saami
Ippo Kaanuthu Bhoomi
Ithu Mattum Thaana
Innum Irukuthu Saami
Kaakaiyilla Seemaiyile
Kaateruma Meikaiyile
Paateduthu Paadiputtu
Ootamitta Chinna Ponnu
Sandhaikku Pona
Naanum Saatchikku Varavaa
Sammandham Panna Unakku
Sammadham Thaana
Kaakaiyilla Seemaiyile..
Kaakaiyilla Seemaiyile
Kaateruma Meikaiyile
Kaakkavachu Nerampaathu
Paaku Vecha Aasa Machaan
Sandhaiki Poren Neenga
Saatchikku Vaanga
Sammantham Panna Enakku
Sammatham Thaanga
Ada Intha Pakkam Paarungalen
Enn Kannimozhi Kelungalen
Adi Yendi Intha Vambuinnu
Kekuriye Kekuriye
Pazhaya Nenapuda Peraandi
Pazhaya Nenapuda
Hm Pazhaya Nenapuda Peraandi
Pazhaya Nenapuda
Kittappaavin Paatta Kettean
Chinnppaava Nerula Paathen
Kotta Kotta Varugudhama
Sangeethama Perugudhamma
Medaiku Ponaa Enakku
Eedula Ponnu
Paadina Ninna Naanum
Noothula Onnu
En Thiramaya Kaatatuma
Rendu Sangathiya Podatuma
Thadarina Thadarina
Thadarina Thadarina
Thadarina Thadarina ..
---
16 Vayathinile [1977] Tamil film Songs List
Aattukkutti
Lyrics: Kannadasan
Vocals: Malaysia Vasudevan, S. Janaki
Sevvanthi Poo
Lyrics: Kannadasan
Vocals: Malaysia Vasudevan, P. Susheela
Manjakkulichi
Lyrics: Alangudi Somu
Vocals: S. Janaki
Sendhoora Poove
Lyrics: Gangai Amaran
Vocals: S. Janaki
Solam Vidhaikkaiyile
Lyrics: Kannadasan
Vocals: Ilaiyaraaja
Comments
comments