July 28, 2021
En Annai Seitha Lyrics | Sumaithaangi | Kannadasan
En Annai Seitha Lyrics | Sumaithaangi | Kannadasan: En Annai Seitha is a Tamil song from the 1962 film 'Sumaithaangi', written and directed by C. V. Sridhar based on the story of writer Ra. Ki. Rangarajan. This movie was produced by Kovai Chezhiyan under the banner Visalakshi Films.
Sumaithaangi Tamil movie features Gemini Ganesan, R. Muthuraman, Devika, L. Vijayalakshmi, Nagesh, Leelavathi, K. Sarangkapani, V. S. Raghavan, K. Balaji, S. A. Natarajan, K. R. Indira Devi, G. Sakunthala, Haranath, and others.
En Annai Seitha song lyrics were penned by kavignar Kannadasan and the song was composed by music directors duo of Viswanathan–Ramamoorthy. This song was rendered by playback singer S. Janaki.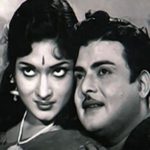 En Annai Seitha Lyrics
Movie: Sumaithaangi [1962]
Music: Viswanathan–Ramamoorthy
Lyrics: Kannadasan
Vocals: S. Janaki
Label: Gramaphone Company
Check out 'En Annai Seitha Lyrics' here..
En Annai Seitha Paavam
Naan Mannil Vandhadhu
En Azhagu Seitha Paavam
Nee Ennai Kandathu
En Annai Seidha Paavam
Naan Mannil Vandhadhu
En Azhagu Seidha Paavam
Nee Ennai Kandathu
En Annai Seidha Paavam
Namm Kangal Seidha Paavam
Naam Kaadhal Kondathu
Ithil Kadavul Seitha
Parigaaram Pirivu Enbathu
Pirivu Enbathu
En Annai Seitha Paavam
Naan Mannil Vandhadhu
En Azhagu Seidha Paavam
Nee Ennai Kandathu
Iravenavum Pagalenavum
Irandu Veiththaanae
Andha Iraivan Avan Manadhai Mattum
Ondru Veiththaanae
Oru Manadhil Oru Vilakai
Yetri Vaiththaanae
Adhil Ozhi Irukka Vazhiyai Mattum
Moodi Vitaanae Moodi Vitaanae
En Annai Seidha Paavam
Uravinaraam Paravaigalai
Nee Valarthaayae
Adhil Oru Paravai Naanum Endrae
Ninaithirunthenae
Siriya Koondu Enakku Mattum
Thirakka Villayae
Adhu Thirantha Podhu En Siragu
Parakkavillayae
En Annai Seitha Paavam
Naan Mannil Vandhadhu
En Azhagu Seitha Paavam
Nee Ennai Kandathu
En Annai Seitha Paavam
Sumaithaangi [1962] Tamil Movie Songs List
Song: Mambazhathu Vandu
Lyrics: Kannadasan
Singers: P. B. Sreenivas, S. Janaki
Song: Manithan Enbavan
Lyrics: Kannadasan
Singer: P. B. Sreenivas
Song: Mayakkamma
Lyrics: Kannadasan
Singer: P. B. Sreenivas
Song: En Annai Seitha
Lyrics: Kannadasan
Singer: S. Janaki
Song: Endhan Paarvaiyin
Lyrics: Kannadasan
Singers: P. B. Sreenivas, S. Janaki
Song: Radhaiketra Kannano
Lyrics: Kannadasan
Singer: S. Janaki
Song: Puriyadhu
Lyrics: Kannadasan
Singer: P. B. Sreenivas
Song: Malaiyai Padaithavan
Lyrics: Kannadasan
Singer: S. Janaki
Comments
comments