May 7, 2018
Ennirandhu Padhinaaru Vayadhu Lyrics | Annai Illam
Ennirandhu Padhinaaru Vayadhu Lyrics | Annai Illam: Ennirandhu Padhinaaru Vayadhu is a song from the 1963 Tamil movie Annai Illam, directed by P. Madhavan. The story was written by Dada Mirasi and screenplay by G. Balasubramaniam. The movie was produced by M. R. Santhanam under the banner Kamala Pictures.
Annai Illam features Nadigar Thilakam Sivaji Ganesan, Devika, S. V. Ranga Rao, M. V. Rajamma, M. N. Nambiar, R. Muthuraman, V. K. Ramasamy, Nagesh, O. A. K Thevar, S. A. Kannan, M. S. Sundari Bai, Jayanthi, Sachu and others.
Saregama is the music label of this movie. This song was composed by K. V. Mahadevan with lyrics penned by Kaviyarasu Kannadasan. Ennirandhu Padhinaaru Vayadhu song was rendered by renowned playback singer T. M. Soundararajan.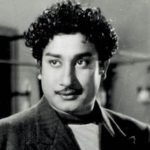 Ennirandhu Padhinaaru Vayathu Lyrics
Movie: Annai Illam [1963]
Music Label: Saregama
Music: K. V. Mahadevan
Singer: T. M. Soundararajan
Lyrics: Kannadasan
Check out the lyrics here..
Ennirandu Padhinaaru Vayadhu..
Ennirandu Padhinaaru Vayadhu
Aval Kannirandil Aadudhammaa
Kaadhal Konda Manadhu..
Ennirandu 16 Vayadhu
Aval Kannirandil Aadudhammaa
Kaadhal Konda Manadhu
Ennirandu Padhinaaru Vayadhu
Munnirandu Malar Eduthaal
En Meedhu Thoduthaal
Mukkaniyum Sarkkaraiyum
Sertheduthu Koduthaal
Munnirandu Malar Eduthaal
En Meedhu Thoduthaal
Mukkaniyum Sarkkaraiyum
Sertheduthu Koduthaal
Mukkaniyum Sarkkaraiyum..
Sertheduthu Koduthaal
Ennirandu 16 Vayadhu
Aval Kannirandil Aadudhammaa
Kaadhal Konda Manadhu
Ennirandu 16 Vayadhu
Kaal Alandha Nadaiyinil
En Kaadhalaiyum Alandhaal
Kaala Magal Petra Mayil
Iravinile Malarndhaal
Kaal Alandha Nadaiyinil
En Kaadhalaiyum Alandhaal
Kaala Magal Petra Mayil
Iravinile Malarndhaal
Kaala Magal Petra Mayil
Iravinile Malarndhaal
Ennirandu Padhinaaru Vayadhu
Aval Kannirandil Aadudhammaa
Kaadhal Konda Manadhu
Ennirandu Padhinaaru Vayadhu
Sutri Naangu Suvargalukkul
Thookkamindri Kidandhom
Sutri Naangu Suvargalukkul
Thookkamindri Kidandhom
Siru Thunbam Pondra Inbathile
Iruvarume Nadandhom
Thunbam Pondra Inbathile
Iruvarume Nadandhom
Ennirandu Padhinaaru Vayathu
Aval Kannirandil Aadudhammaa
Kaadhal Konda Manadhu
Ennirandu Padhinaaru Vayathu
Annai Illam [1963] Songs Lyrics
Ennirandhu Padhinaaru Vayathu
Nadaiya Idhu Nadaiya
Madi Meethu Thalai Vaiththu
Sigappu Vilakku
Enna Illai Enakku
Comments
comments