May 2, 2023
Muthaduthey Muthaduthey Lyrics
Muthaduthey Muthaduthey Lyrics: Muthaduthey Muthaduthey is a Tamil song from the 1984 movie 'Nallavanukku Nallavan', directed by S. P. Muthuraman and written by Visu. The movie was produced by M. Saravanan, M. Balasubramanian under the banner AVM Productions.
The film was a remake of the 1983 Telugu film Dharmaatmudu, directed by Bairisetty Bhaskara Rao starring Krishnam Raju and Jayasudha. It was remade in Tamil as Nallavanuku Nallavan, in Kannada as Jeevana Chakra and in Hindi as Mera Saathi.
Nallavanukku Nallavan [1984] Tamil film features Rajinikanth, Raadhika, Karthik, Thulasi, V. K. Ramasamy, Major Sundarrajan, Y. G. Mahendran, Visu, Kalpana Iyer, and others.
Muthaduthey Muthaduthey song lyrics were penned by Muthulingam and the song was composed by Isai Gnyani 'Ilaiyaraaja'. This song was sung by S. P. Balasubrahmanyam and S. Janaki.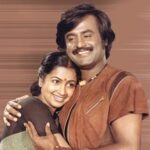 Muthaduthey Muthaduthey Lyrics
Movie: Nallavanukku Nallavan [1984]
Music: Ilaiyaraaja
Lyrics: Muthulingam
Singer: S. P. Balasubrahmanyam, S. Janaki
Audio Label: Kosmik Music
Check out 'Muthaduthey Muthaduthey Lyrics' here..
Muthaduthey Muthaduthey Raagam
Pithanathey Pithanathey Dhegam
Poovaai Neeyum Paarvai Veesu
Anbe Neeyum Kannaal Pesu
Kani Idhazh
Muththaaduthae Muththaaduthae Raagam
Pithaanathae Pithaanathae Dhegam
Poovaai Neeyum Paarvai Veesu
Anbae Neeyum Kannaal Pesu
Kani Idhazh
Muthaaduthae Muthaaduthae Raagam
Paavai Un Meni Kaadhal Veenai
Kaalai En Kaigal Meettum Velai
Ennenna Raagangal Nee Meettuvaai
Adhil Ennenna Vannangal Nee Kaattuvaai
Yedhedho Raagangal Naan Paadalaam
Adhu Thaangaamal Un Meni Poraadalaam
Sandhosham Thaangaamal Thallaadum Nerathil
En Meni Saayamal Nee Thaangalaam Anbe
Lalallaa
Muththaaduthae Muththaaduthae
Raagam
Pithaanathae Pithaanathae
Dhegam
Dhegam Thanneril Neenthum Podhu
Nenjil Yedhetho Inbam Nooru
Meen Pola Naan Maari Vilayadavaa
Alai Neer Pola Un Meedhu Naan Modhavaa
En Meni Nogamal Vilayadalaam
Indha Idaiyodu Thaalangal Nee Podalaam
Thaalangal Naan Poda Naanangal Paranthoda
Dhegangal Ilaipaara Idam Thedalaam Amudhae
Rapa Rapapaa
Muththaaduthae Muththaaduthae
Raagam
Pithaanathae Pithaanathae
Dhegam
Poovaai Neeyum Paarvai Veesu
Anbae Neeyum Kannaal Pesu
Kani Idhazh
Muththaaduthae Muththaaduthae
Raagam
Nallavanukku Nallavan [1984] Tamil Songs Lyrics
1. Chittuku Chella Chittuku
Lyrics: Na. Kamarasan
Singer: K. J. Yesudas
2. Ennai Thane
Lyrics: Vairamuthu
Singer: K. J. Yesudas
3. Unnaithane Thanjam Endru
Lyrics: Vairamuthu
Singers: K. J. Yesudas, Manjula Gururaj
4. Vechikkava Unna Mattum Nenjukkulla
Lyrics: Gangai Amaran
Singers: K. J. Yesudas, S. Janaki
5. Muthaduthey Muthaduthey
Lyrics: Muthulingam
Singers: S. P. Balasubrahmanyam, S. Janaki
6. Namma Modhalali
Lyrics: Vaali
Singers: S. P. Balasubrahmanyam, Malaysia Vasudevan
Comments
comments