July 15, 2022
Paarthu Paarthu Kangal Lyrics
Paarthu Paarthu Kangal Lyrics: Paarthu Paarthu Kangal is a hit song from the 1999 Tamil movie 'Nee Varuvai Ena', written and directed by Rajakumaran on his directorial debut. The film was produced by R. B. Choudary under the banner Super Good Films.
Nee Varuvai Ena [1999] Tamil film features Parthiban, Devayani, Ajith Kumar, Vijayakumar, Jaiganesh, Sathyapriya, Crane Manohar, Ramesh Khanna, Vadivukkarasi, Vaiyapuri, Fathima Babu,Madhan Bob, Shanmugasundaram, Singamuthu, T. S. Raghavendra, Gowthami Vembunathan, Saranya Nag, Suvalakshmi, Kanal Kannan, Master Mahendran, and others.
Paarthu Paarthu Kangal Song Lyrics were penned by Pa. Vijay and the song was composed by music director S. A. Rajkumar. This song was rendered by playback singer S. P. Balasubramaniam. Paarthu Paarthu Kangal female version was sung by K. S. Chithra.
Nee Varuvai Ena Tamil was later remade in Telugu as Ninne Premistha (2000) starring Nagarjuna, Srikanth, and Soundarya.
The Kannada remake of Nee Varuvai Ena is Ninne Preethisuve (2002) featuring Ramesh Aravind, Shiva Rajkumar and Raasi. The film was also remade in Malayalam as 'Pranayamanithooval' [2002] starring Vineeth Kumar, Jayasurya and Gopika.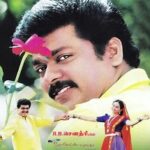 Paarthu Paarthu Kangal Lyrics
Movie: Nee Varuvai Ena [1999]
Music: S. A. Rajkumar
Lyrics: Pa. Vijay
Singer: S. P. Balasubramaniam
Label: Sa Re Ga Ma, Star Music
Check out 'Paarthu Paarthu Kangal' Song Lyrics here
Paarthu Paarthu Kangal Poothirupen
Nee Varuvai Ena
Poothu Poothu Punnagai Serthuvaipen
Nee Varuvai Ena
Thendralaaga Nee Varuvayaa
Jannalaagiren
Theerthamaaga Nee Varuvayaa
Megamaagiren
Vannamaaga Nee Varuvaayaa
Pookalaagiren
Vaarthaiyaaga Nee Varuvaya
Kavidhaiyaagiren
Nee Varuvai Ena
Nee Varuvai Ena
Paarthu Paarthu Kangal Poothirupen
Nee Varuvaaiyena
Poothu Poothu Punnagai Serthuvaipen
Nee Varuvaaiyena
Karaigalil Odhungiya Kilinjalgal
Unakena Dhinam Dhinam Segarithen
Kumudhamum Vikatanum Nee Padipayena
Vaasaganagi Vitten
Kavidhai Noolodu Kola Puthagam
Unakai Semikiren
Kanavil Unnodu Enna Pesalam
Dhinamum Yosikiren
Oru Kaagam Kaavena Karaindhaalum
Yen Vaasal Paarkiren
Nee Varuvai Yena
Nee Varuvai Yena
Paarthu Paarthu Kangal Poothirupen
Nee Varuvai Yena
Poothu Poothu Punnagai Serthuvaipen
Nee Varuvai Yena
Yenakulla Vedhanai Nilavuku Therindhidum
Nilavukum Jodi Illai
Ezhudhiya Kavidhaigal Unai Vandhu Serndhida
Kavidhaikum Kaalgal Illai
Ulagil Pen Vargam Nooru Kodiyaam
Adhile Nee Yaaradi
Sarugai Vandhae Naan Kaathirukiren
Engae Un Kaaladi
Mani Sari Paarthu
Dhinam Vazhi Paarthu
Iru Vizhigal Theigiren
Nee Varuvai Yena
Nee Varuvai Yena
Paarthu Paarthu Kangal Poothirupen
Nee Varuvai Yena
Poothu Poothu Punnagai Serthuvaipen
Nee Varuvai Yena
Thendralaga Nee Varuvayaa
Jannalagiren
Theerthamaga Nee Varuvayaa
Megamagiren
Vannamaga Nee Varuvayaa
Pookalagiren
Vaarthaiyaga Nee Varuvaya
Kavidhaiyaagiren
Nee Varuvai Yena |4|
Nee Varuvai Ena [1999] Songs List
1. Oru Devathai Vanthu Vittaal
Lyrics: Ra. Ravishankar
Singer: Hariharan
2. Oru Devathai Vanthu [Female]
Lyrics: Ra. Ravishankar
Singer: K. S. Chithra
3. Paarthu Paarthu Kangal
Lyrics: Pa. Vijay
Singer: S. P. Balasubramaniam
4. Paarthu Paarthu Kangal [Female]
Lyrics: Pa. Vijay
Singer: K. S. Chithra
5. Poonguil Paattu Pidichirukka
Lyrics: Viveka
Singers: Arunmozhi, Harini
6. Athikaalaiyil Sevalai
Lyrics: Ramesh Vaidya
Singers: Sujatha, Unni Krishnan
Comments
comments