October 5, 2017
Rail Aaraaroo Lyrics
Rail Aaraaroo Lyrics: Rail Aaraaroo is a song from an upcoming 2017 Tamil movie Nenjil Thunivirundhal, written and directed by Suseenthiran. Nenjil Thunivirundhal features Vikranth, Sundeep Kishan, Soori, Mehreen Pirzada, Harish Uthaman, Appukutty, T. Siva, Thulasi, Dhileepan, Aruldoss, Vinoth Kishan and others. Saregama is the music label of this movie. This song was composed by D. Imman with lyrics penned by Yugabharathi. Rail Aaraaroo was rendered by Pradeep Kumar and Shreya Ghoshal.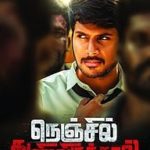 Rail Aaraaroo Lyrics
Movie: Nenjil Thunivirunthal [2017]
Music Label: Saregama
Music: D. Imman
Lyrics: Yugabharathi
Singers: Pradeep Kumar, Shreya Ghoshal
Check out the lyrics here..
Rail Aaraaroo Rail Aaraaroo
Ena Koovaadho Un Peyarai Sonnaal
Rail Aaraaroo Rail Aaraaroo
Isai Paadatho Un Kaadhal Sonnaal
Nee Pesinaal Thoosiyum Thongum Thottame
Oor Aayiram Vaanoli Ulle Ketkume
Theruve Unnaale Moongil Thottilaa
Urumaari Poche Oonjal Kattilaa
Adanga Un Paarvai Oosi Kuththalaa
Manam Kaayuthe Aasayil Vaththalaa
Rail Aaraaroo Rail Aaraaroo
Ena Koovaadho Un Peyarai Sonnaal
Rail Aaraaroo Rail Aaraaroo
Isai Paadatho Un Kaadhal Sonnaal
Vazhayal Kolusu Sinungidudhe
Athile Idhayam Pithungidudhe
Ezhidhaana Devadhai Ariyaayo Nee Adhai
Kanavil Imaigal Kasangidudhe
Athile Urakkam Nasungidudhe
Azhagaaga Novathai Ezhudhaayo Oor Kadhai
Enge Endru Sila Naalaaga Naan Ennai
Kaanamal Thedithaan Vandhen Unnulle
Ulle Vandhum Unai Thedaamal Nee Ennai
Aaraayap Pogathaan Vetkam Ennulle
Entha Idam Unnil Azhagau
Sollida Neeyum Innum Pazhagu
Pongi Vazhigiradhe Aasai Paagu
Rail Aaraaroo Rail Aaraaroo
Isai Paadatho Un Kaadhal Sonnaal
Iravum Pagalun Kurumbugale
Enai Nee Thodarum Nodigalile
Iragaaga Nenjame Suzhalaadho Engume
Mazhaiyum Veyilum Ulaginile
Inaindhae Varum Un Mozhagalile
Kadalaagum Sangumae
Paniyaadho Singamae
Aiyo Unpol Oru Aal Yedhu Man Meedhu
Aagayam Neeyendre Paarthen Annaarndhu
Poiye Illai Unai Serndhaene Ippodhu
Kanne Nee Illaamal Poven Mallaandhu
Nithamume Pithu Pidithu
Engum Enai Kuthi Eduthu
Suthi Adikkiradhe Kaadhal Kaaththu
Rail Aaraaroo Rail Aaraaroo
Ena Koovaadho Un Peyarai Sonnaal
Nee Pesinaal Thoosiyum Thongum Thottame
Oor Aayiram Vaanoli Ulle Ketkume
Theruve Unnaale Moongil Thottilaa
Urumaari Poche Oonjal Kattilaa
Adanga Un Paarvai Oosi Kuththalaa
Manam Kaayuthe Aasayil Vaththalaa
Rail Aaraaroo Rail Aaraaroo
Ena Koovaadho Un Peyarai Sonnaal
Nenjil Thunivirunthal Songs
Yechacha Yechacha
Aram Seyya Virumbu
Rail Aaraaroo
Aei Arakka – Thathathatha Thadai
Sophia
Comments
comments