August 14, 2020
Telephone Manipol Lyrics
Telephone Manipol Lyrics: Telephone Manipol is a hit song from the 1996 Tamil movie 'Indian' starring Ulaganayagan Kamal Haasan. The film was written and directed by Shankar. The film was produced by A. M. Rathnam under the banner Sri Surya Movies.
Indian Tamil movie features ensemble cast of Kamal Haasan, Manisha Koirala, Urmila Matondkar, Sukanya, Manorama, Nedumudi Venu, Kasthuri, Nizhalgal Ravi, Goundamani, Senthil, Crazy Mohan, Ajay Rathnam, Omakuchi Narasimhan, Bala Singh, Ponnambalam, Mahanadi Shankar, Chokkalinga Bhagavathar, Vikram Dharma, Kovai Senthil, and others.
Telephone Manipol Song Lyrics were penned by famous Tamil lyricist Vairamuthu and the song was composed by music director A. R. Rahman. This song was rendered by playback singers Hariharan, and Harini.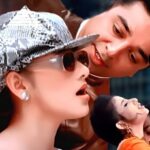 Telephone Manipol Lyrics
Movie: Indian [1996]
Music: A. R. Rahman
Lyrics: Vairamuthu
Singers: Hariharan, Harini.
Music Label: Pyramid
Check out 'Telephone Manipol Song Lyrics' here..
Telephone Manipol Sirippaval Ivalaa..
Melbourne Malarpol Melliya Magalaa..
Digitalil Sedhukkiya Kuralaa
Elizabeth Taylor Magalaa
Zakkir Hussain Thabalaa Ivaldhaanaa..
Sonaa Sonaa
Ival Angam Thangam Thaanaa
Sonaa Sonaa
Ival Latest Cellular Phone-Aa
Computer Kondivalai
Andha Bhramman Padaithanaa..
Telephone Manipol Sirippaval Ivalaa
Melbourne Malarpol Melliya Magalaa
Nee Illai Endraal Veyilum Adikaadhu
Thuli Mazhaiyum Irukkaadhu
Nee Illai Endraal Chandhiran Irukaadhu
Oru Sambavam Enakkedhu
Un Perai Sonaal
Swaasam Muzhudhum Suga Vaasam Veesudhadi
Unnai Pirindhaalae
Veesum Kaatril Velai Niruthamadi
Neerillai Endraal Aruvi Irukkaadhu
Malai Azhagu Irukkaadhu
Nee Illaamal Ponaal Idhayam Irukkaadhu
En Ilamai Pasikkaadhu
Vellai Nadhiye Unnul Ennai
Dhinam Moozhgi Aada Vidu
Vetkkam Vandhaal Koondhal Kondu
Unai Konjam Moodividu
Telephone Manipol Sirippaval Ivalaa
Melbourne Malarpol Melliya Magalaa
Un Perai Yaarum Sollavum Vidamaatten
Andha Sugathaiyum Tharamaatten
Un Koondhal Pookkal Vizhavae Vidamaatten
Adhai Veyyilil Vida Maaten
Pengal Vaasam Ennai Thavira
Ini Veesakoodaadhu
Annai Theresa Avarai Thavira
Pirar Pesakoodaadhu
Nee Pogum Theruvil Aangalai Vidamaatten
Sila Pengalai Vidamaatten
Nee Sindhum Sirippai Kaatril Vidamaatten
Adhai Kavarven Tharamaten
Pudavai Kadaiyil Pennin Silaiyai
Nee Theenda Koodaadhu
Kaadhal Kottai Karpukarasaa
Nee Thaanda Koodaadhu
Telephone Manipol Sirippaval Ivalaa
Melbourne Malarpol Melliya Magalaa
Digitalil Sedhukkiya Kuralaa
Elizabeth Taylor In Magalaa
Zakkir Hussain Thabalaa Ivaldhaanaa
Sonaa Sonaa
Ival Angam Thangam Thaanaa
Sonaa Sonaa
Ival Latest Cellular Phone Ah
Computer Kondivalai
Andha Bhramman Padaithanaa
---
Indian [1996] Tamil Movie Songs List
Song: Telephone Manipol
Lyrics: Vairamuthu
Singers: Hariharan, Harini
Song: Pachai Kiligal
Lyrics: Vairamuthu
Singer: K. J. Yesudas
Song: Akadanu Naanga
Lyrics: Vaali
Singer: Swarnalatha
Song: Maya Machindra
Lyrics: Vaali
Singers: S. P. Balasubrahmanyam, Swarnalatha
Song: Kappaleri Poyaachu
Lyrics: Vaali
Singers: P. Susheela, S. P. Balasubrahmanyam
Comments
comments