April 6, 2023
Yaathisai [2023] Tamil Movie Cast & Crew | Trailer | Release Date | Review
Yaathisai [2023] Tamil Movie Cast & Crew | Trailer | Release Date | Review: Yaathisai is an upcoming Tamil Historical film, written & directed by Dharani Rasendran, produced by K. J. Ganesh under the banner Venus infotainment & Six star entertainment.
Yaathisai [2023] Tamil Movie Cast includes Shakthi Mithran, Seyon, Rajalakshmi, Guru Somasundram, Chandrakumar, Semmalar Annam, Subathra, Samar, Vijay Seyon, S Ruby Beauty, Rajasekar, Vaidehi, Seenu, Sabdhaseelan, Jamaal, Nirmal, Sureshkumar, tamizhselvi, Sathish Nadarajan, Sidhu, Pascal, Samson, Sanjay, Suji subha, and others.
Yaathisai [2023] Tamil Movie Crew includes Music by Chakravarthy, Cinematography by Akilesh Kathamuthu Editor Mahendran Ganesan, Art by Ranjith kumar, Stunt by Om siva Prakash , Vfx by Ravikumar Ananathraj, Lyricist T.Babu & G.S Yaazhvan, Costume design by Suresh kumar, Make-up by Vinoth Sugumaran, Sound design by R. Saravanan & T.P Dharma, Executive producer A.Deva, Production controller Rakesh ragavan, Production manager M.P.Ramachandran, and others.
Yaathisai [2023] Tamil Movie Trailer
Yaathisai [2023] Tamil Movie Release Date
Yaathisai [2023] Tamil Movie is scheduled to release in theatres on 21st April 2023.
Yaathisai [2023] Tamil Movie Review
A periodical fiction based on the 7th-century Pandiyan prince Ranadheeran who ruled during a time when the
Chola dynasty lost its power and its people were forced to live in the woods.
---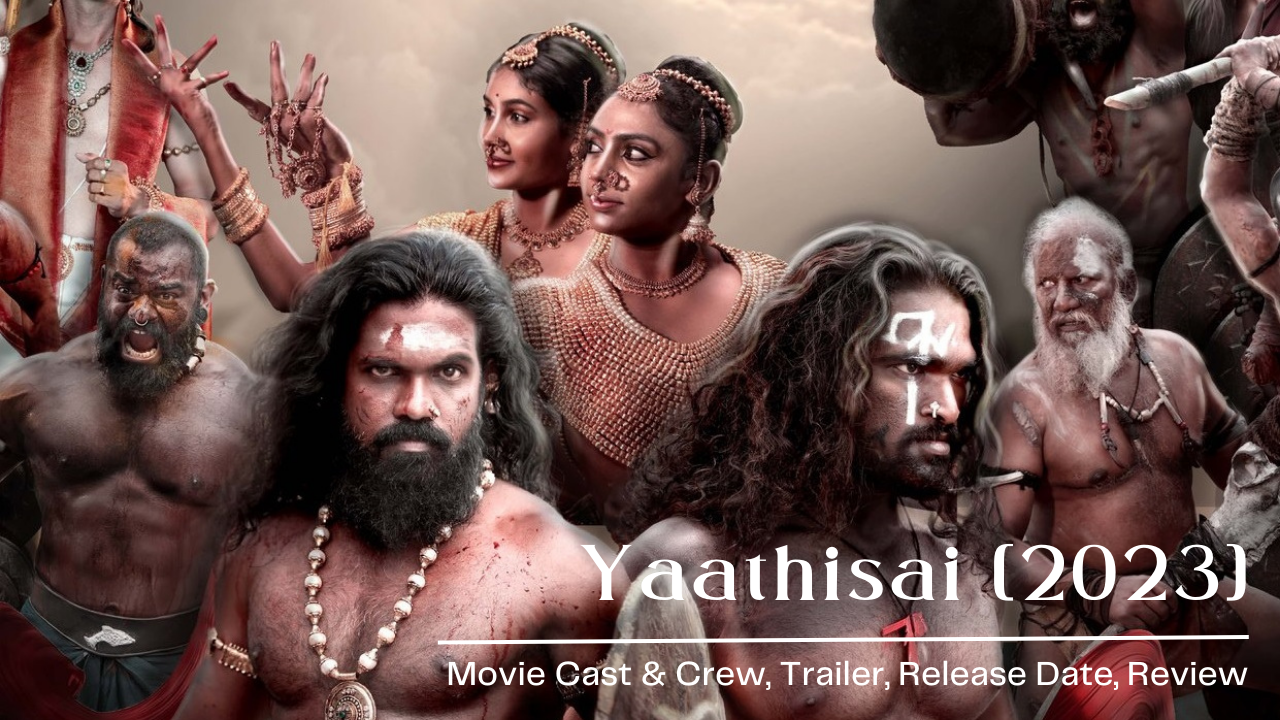 Yaathisai [2023] Tamil Movie Cast & Crew | Trailer | Release Date | Review
Produced by: K.J.Ganesh
Written & Directed by: Dharani Rasendran
Cinematography: Akilesh Kathamuthu
Editor: Mahendran Ganesan
Music: Chakravarthy
Art: Ranjith kumar,
Stunt: Om siva Prakash
Vfx : Ravikumar Ananathraj
Executive producer : A.Deva
Costume design : Suresh kumar
Make-up : Vinoth Sugumaran
Colourist : Naveen(shade69 studios)
Sound design : R. Saravanan & T.P Dharma
Stills : R.S.Raja
Story board : Indra Prabakaran
Publicity design : Tamizharasan & Deva
Production controller : Rakesh ragavan
Production manager : M.P.Ramachandran
Assistant : Subash
PRO : Nikil Murugan
Lyricist : T.Babu & G.S Yaazhvan
Sangathamizh Dialogue : Thirumurugan Kalilingam
Assistant Directors : Ambethkar Kittu, Aslam, Ananth Raja, Muthu, Yazhvan, Praba, Ranjith, Jothish,
Selvendhar Arumugam, Siva, Ashif, Kubenthiran, Patturaj, Sivaranjini, Surya, Indhu mathi, Dinesh,
Saravanan, Parithi, Arunpandiyan, Ram, Thanish, Jai ganesh, Kittu, Mani .
Associate camera : Govind
Assistant Camera : Sharan, Siddharth, Naveen, mohankumar, sundar
Assistant editor : Sasikumar siva.
Associate Editor : Yuvaraj Kuppan .
Sound Assistant : Rishikesh , Sugavethan .
Promo cuts : irusu patarai studio.
Label: Saregama India Limited
Comments
comments