April 16, 2018
Yen Pirandai Magane Song Lyrics
Yen Pirandai Magane Song Lyrics: Yen Pirandai Magane [En Piranthaai Magane] is a song from the 1959 Tamil movie Bhaaga Pirivinai, A. Bhimsingh. story and screenplay were written by M. S. Solaimalai. The film was produced by G. N. Velumani under the banner Saravana Films. Bhaaga Pirivinai features Sivaji Ganesan, B. Saroja Devi, M. R. Radha, M. N. Nambiar, T. S. Balaiah, S. V. Subbaiah, M. V. Rajamma, C. K. Saraswathi, K. M. Nambirajan, S. Ramarao, N. Lalitha, C.T. Rajakantham and others. This film won national film awards 1959.
Saregama music label of this movie. This song was composed by Viswanathan–Ramamoorthy with lyrics penned by Kannadasan. Yen Pirandai Magane song was rendered by T. M. Soundararajan.
What a great song. This evergreen song makes me emotional whenever I listens to it. extraordinary lyrics by immortal Kannadasan. Beautifully rendered by T. M. Soundararajan.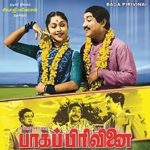 En Piranthaai Magane Lyrics
Movie: Bhaaga Pirivinai [1959]
Music Label: Saregama
Music: Viswanathan–Ramamoorthy
Lyrics: Kannadasan
Singer: T. M. Soundararajan
Check out the lyrics here..
Yen Pirandai Magane Yen Pirandaayo..
Yen Pirandai Magane Yen Pirandaayo
Yen Pirandai Magane Yen Pirandaayo
Illai Oru Pillai Endru Yenguvor Palar Irrukka
Ingu Vandhu Yen Pirandai Selva Magane
Illai Oru Pillai Endru Yenguvor Palar Irrukka
Ingu Vandhu Yen Pirandai Selva Magane
Yen Pirandai Magane Yen Pirandaayo
Naan Pirandha Kaaranaththai Naane Ariyum Munne
Neeyum Vandhu Yen Pirandai Selva Magane..
Naan Pirandha Kaaranaththai Naane Ariyum Munne
Neeyum Vandhu Yen Pirandai Selva Magane
Yen Pirandai Magane Yen Pirandaayo
Kai Kaalgal Vilangaadha Kanavan Kudisayilum
Kaadhal Manam Vilanga Vandhaal Annaiyada
Kaadhalilum Perumai Illai
Kangalukkum Inbam Illai
Kadamayil Eendreduththaal Unnaiada
Yen Pirandai Magane Yen Pirandaayo
Man Valarththa Porumai Ellam Manadhil Valarththavalaai
Kan Malarndha Penmayilai Naan Adaindhen
Nee Valarndhu Maramaagi Nizhal Tharum Kaalam Varai
Thaai Manadhai Kaathiruppen Thanga Magane
Nee Valarndhu Maramaagi Nizhal Tharum Kaalam Varai
Thaai Manadhai Kaathiruppen Thanga Magane
Aaraaroo Aaro Aariraro..
Aaraaro Aaro Aariraaro
Bhaaga Pirivinai Songs
En Piranthaai Magane
Thangatthile Oru Kurai Irundhaalum
Paalootri Uzhavu…. Therodum Indha Seeraana
Thalaiyaam Poo Mudichu
Aanai Mugatthone…. Pillaiyaaru Koyilukku
Otrumaiyaai Vaazhvadhaale Undu Nanmaiye
Aattatthile Palavagai Undu
Comments
comments