May 18, 2023
Anupamaa Episode 924 Written Update – 17 May 2023 | Anupama meets Anuj
Anupamaa Episode 924 Written Update – 17 May 2023 | Anupama meets Anuj: Anupamaa is an Indian Hindi language television series, developed by Leena Gangopadhyay and directed by Romesh Kalra. It was produced by Rajan Shahi and Deepa Shahi under the banner of Director's Kut Productions, it is loosely based on Star Jalsha's Bengali series Sreemoyee.
Anupamaa Hindi serial season 1 was premiered on 13 July 2020 on Star Plus and streams digitally on Disney+ Hotstar. It stars Rupali Ganguly, Sudhanshu Pandey, Madalsa Sharma Chakraborty, Gaurav Khanna, and others.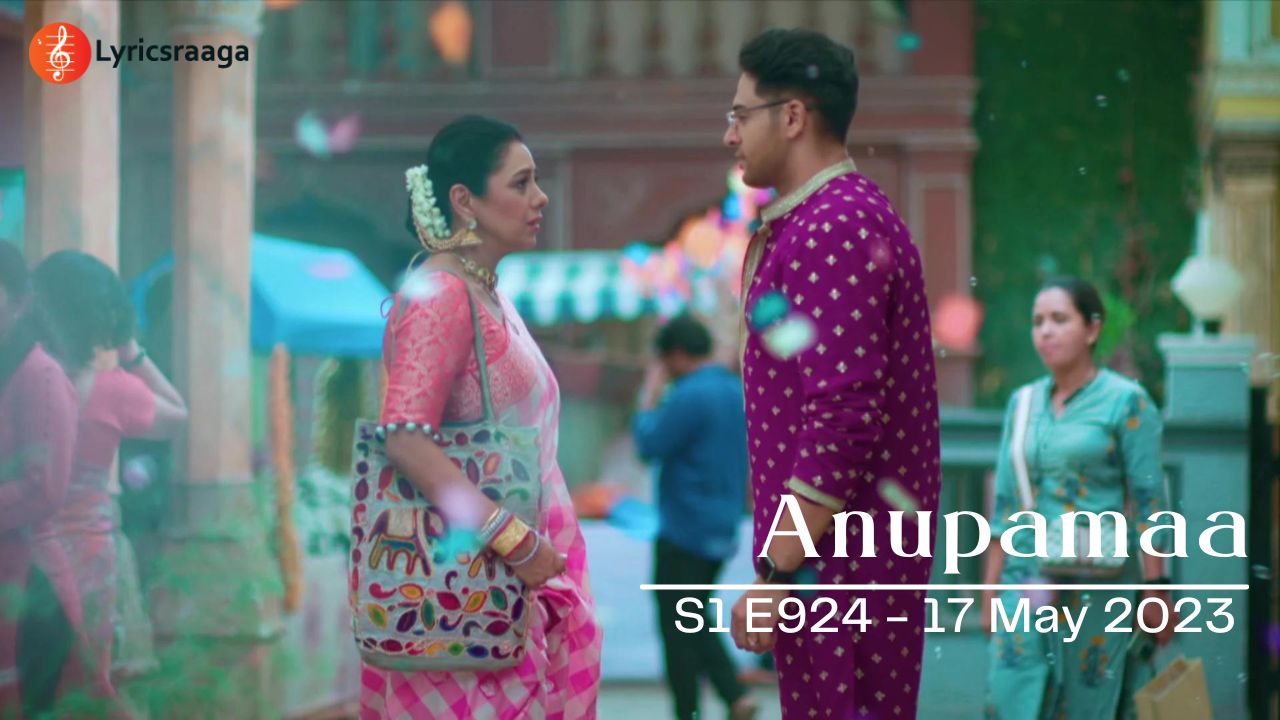 Anupamaa S1 E924 Update [17 May 2023]: Anupama meets Anuj
During Satyanarayan Puja at the Shah house, Anupama remains speechless after meeting Anuj. Later, she feels heartbroken to see the change in Anu's behaviour.
Lets check out what happened in detail..
In the midst of challenges and celebrations, Anupama embarks on a remarkable journey to Shah House for the auspicious Satyanarayan pooja. This article delves into the unique experiences and interactions she encounters along the way, highlighting the strength of her character and the spirit of unity within the Shah family.
As Anupama makes her way from Gurukul to Shah House, her limping gait serves as a reminder of the punishment she endured. Bhairavi sympathetically shares the details of Gurumaa's scolding and strict discipline. However, Anupama, ever resilient, views these hardships as a teacher's blessing, acknowledging the lessons they impart. Bhairavi, curious, wonders why blessings can't be bestowed all at once. Anupama gently advises her to let go of the questioning, urging her to embrace the journey of growth and understanding.
Anupama's thoughts shift towards the presence of Anuj, knowing that his attendance at Samar's pooja will make the day more challenging for her. The mixture of emotions—nostalgia, longing, and apprehension—creates a complex backdrop for the forthcoming events. Anupama prepares herself mentally for the day ahead, aware that it will test her resilience and inner strength.
Meanwhile, the Shah family busily makes arrangements for the pooja. Dolly and Meenu, cherished guests, arrive at Shah House. The ever-affectionate Leela playfully remarks on Meenu's growth, only to receive a lighthearted retort about commenting on a woman's age. Dolly intervenes to maintain decorum, but Leela shrugs it off, acknowledging that at least someone has the spirit to challenge her. Curiosity arises about Sanjay's absence, and Dolly reveals that he has achieved the position of AGM at his office, though he opted for leave to fully participate in the festivities.
The Shahs engage in a discussion about a groom's involvement in his own wedding, emphasizing the importance of active participation. Dolly takes the opportunity to inquire about Anupama's arrival, and Meenu curiously wonders if little Anu will accompany her. Sensing the need to divert the conversation, the Shahs gracefully shift the topic, perhaps mindful of Anupama's emotional journey and the delicate balance of the day's events.
Anupama's journey to Shah House encompasses a blend of resilience, anticipation, and emotional challenges. Her unwavering determination to find meaning in every experience and embrace the teachings of her hardships showcases her exceptional character. As the Shah family unites to celebrate the Satyanarayan pooja and eagerly await Anupama's arrival, they navigate sensitive topics with care, recognizing the significance of this pivotal day in her life. Together, they embark on a journey filled with joy, introspection, and a deep appreciation for the transformative power of unity and love.
Comments
comments