May 18, 2023
Anupamaa Episode 925 Written Update – 18 May 2023 | Anupama Feels Disheartened
Anupamaa Episode 925 Written Update – 18 May 2023 | Anupama Feels Disheartened: Anupamaa is an Indian Hindi language television series, developed by Leena Gangopadhyay and directed by Romesh Kalra. It was produced by Rajan Shahi and Deepa Shahi under the banner of Director's Kut Productions, it is loosely based on Star Jalsha's Bengali series Sreemoyee.
Anupamaa Hindi serial season 1 was premiered on 13 July 2020 on Star Plus and streams digitally on Disney+ Hotstar. It stars Rupali Ganguly, Sudhanshu Pandey, Madalsa Sharma Chakraborty, Gaurav Khanna, and others.
Precap: Leela says they should decide where wedding functions will happen. Maaya says they should divide functions between Shah and Kapadia house. Anupama recalls Anuj taking her to Kapadia house. Barkha says Anuj wants Dimpy's bidaai to happen in Kapadia house.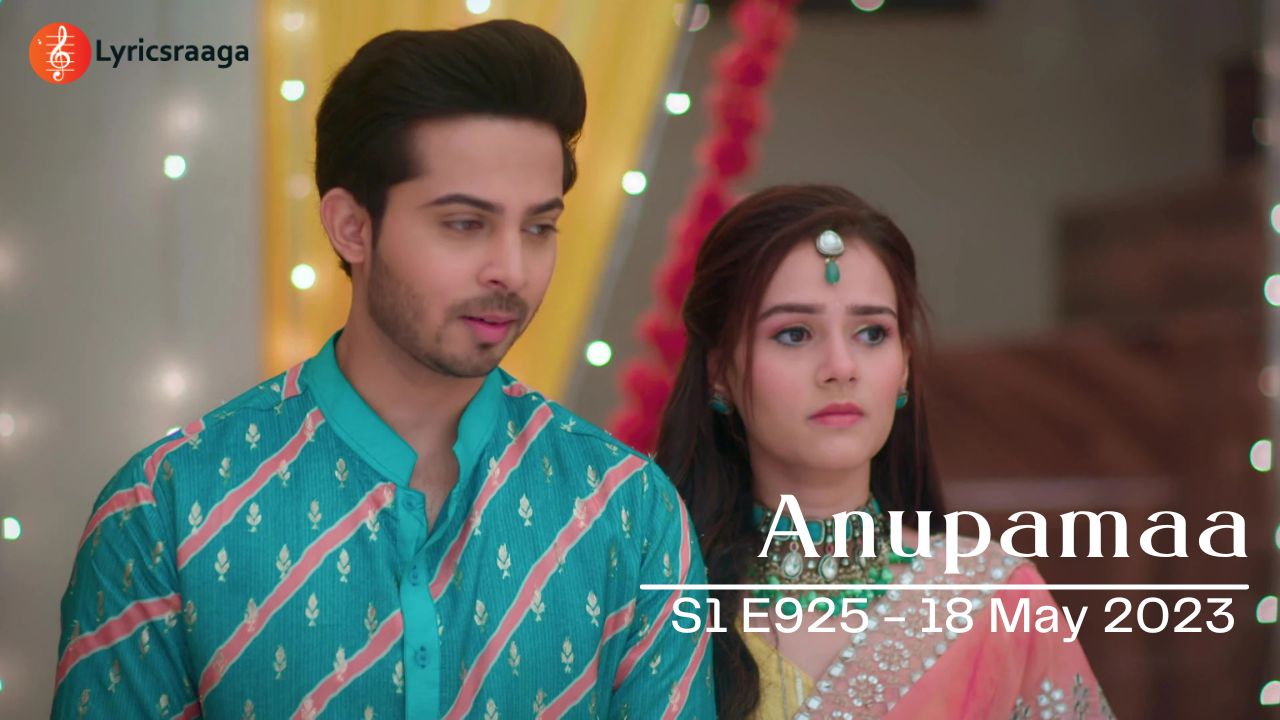 Anupamaa Episode 925 Written Update – 18 May 2023 | Anupama Feels Disheartened
Title: Anupama's Bittersweet Journey: Navigating Turbulent Emotions at Shah House
Introduction:
In the midst of a celebration filled with mixed emotions, Anupama finds herself walking into Shah House, carrying the weight of sadness caused by Little Anu and Anuj's unkind behavior. The Shah family, frowning at the sight of Anuj with Maya and Little Anu, stands in silence instead of celebrating. This article delves into the unique experiences that unfold, as Anupama grapples with her emotions, while the Shahs strive to maintain the sanctity of the day's festivities.
A Tense Atmosphere:
Anupama's arrival at Shah House brings a cloud of sadness, amplified by witnessing Anuj and Little Anu's indifference towards her. The Shah family, sensing the tension, remains silent, unable to fully embrace the joyous occasion. Kinjal, recognizing the need to shift the energy, suggests commencing the pooja, hoping it will help uplift everyone's spirits. Leela, however, cannot resist inquiring about Anuj and Maya's marital status, to which Hasmukh asserts that the day belongs to Samar and Dimpy, gently discouraging any discussion on the matter.
The Struggle for Anupama:
As Panditji calls for the commencement of the pooja, Leela asks Anupama to fetch sweets from the home temple. Anupama hurriedly retrieves the sweets, intending to sit beside Anuj, only to have Maaya take her place, leaving Anupama feeling deeply saddened. She reluctantly settles down behind them, consumed by her emotional turmoil. Kavya, observing the situation, recalls Maaya's previous act of taking Anuj's seat, further fueling her anger.
Anupama's Inner Turmoil:
The pooja begins with Panditji instructing Anupama to bring flowers. In a moment of misfortune, Anupama slips, and Anuj instinctively catches her. However, their connection intensifies when Anupama's mangalsutra gets entangled in Anuj's kurta, locking their gaze. Seizing the opportunity, Maaya pretends to feel breathless, manipulating the situation to gain Anuj's attention. Anuj tends to her, leaving Anupama shattered. The family empathizes with Anupama's pain, while Vanraj, attempting to divert attention, instructs her to bring more flowers.
Anupama's Heartbreak:
Overwhelmed by her emotions, Anupama retreats to a room, succumbing to tears as she recollects the distressing incident. However, she gathers her strength and reminds herself not to cry, determined to regain composure in the face of adversity.
A Heartfelt Conversation:
Kavya approaches Anupama, providing solace through a comforting embrace. She expresses concern for Anupama's well-being, highlighting the importance of reminding herself to stay strong. Anupama acknowledges Kavya's beauty and expresses happiness for her modeling career, to which Kavya reveals her contemplation of transitioning to work behind the camera. Anupama commends Kavya's growth and advises her to embrace happiness and continue moving forward.
Pakhi's Distress and a Heated Exchange:
Pakhi's distress intensifies as she witnesses the dramatic display between Maaya and Barkha. Kinjal attempts to calm her down, reminding her of the importance of focusing on Samar and Dimpy's ceremony. However, Pakhi blames Dimpy for inviting Anuj and Maaya, accusing them of deliberately hurting Anupama. Their argument escalates until Kinjal intervenes, forcefully dispersing them to maintain peace.
Leela's Persistent Concern:
Leela and Kanta discuss the profound pain Anupama is enduring, highlighting their empathy for her difficult situation. Anupama, noticing Dolly's evident stress during a phone conversation, becomes attentive to her sister's well-being.
A Tender Moment:
Panditji requests the groom and bride's parents to sit for the pooja. Leela insists that Anupama sit with Vanraj, sparking a brief disagreement. Vanraj, aware of Anupama's emotional state, gives her the freedom to choose her seat based on her comfort level, emphasizing his support and understanding.
Conclusion:
Anupama's journey at Shah House reflects a rollercoaster of emotions, as she navigates heartbreak, disappointment, and inner resilience. Amidst the strained atmosphere, the Shah family grapples with their own feelings while striving to maintain the sanctity of the occasion. Anupama finds solace in the support of Kavya and gathers strength to face the challenges ahead. As the pooja unfolds and tensions simmer, the Shahs demonstrate compassion and understanding towards Anupama, underscoring the importance of unity and empathy during testing times.
Comments
comments