August 10, 2017
Parashuram Kannada Songs Lyrics
Parashuram Kannada Songs Lyrics: Parashuram is a 1989 Kannada movie, directed by V. Somashekhar. This was V.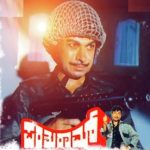 Somashekhar's last movie with Dr. Rajkumar, who incidentally started his directing career with Dr. Rajkumar's Bangaarada Panjara. Parashuram features Dr. Rajkumar, Vani Viswanath, Puneeth Rajkumar, Thoogudeepa Srinivas, C.R. Simha, Doddanna and others.
All the songs for this movies were composed by Hamsalekha with lyrics written by Chi. Udayashankar, T. P. Kailasam, and Hamsalekha. The songs for Parashuram were rendered by Dr. Rajkumar, Manjula Gururaj, Puneeth Rajkumar and Swarnalatha.
Check out the lyrics here..
Nagutha Nagutha Baalu Lyrics
Movie: Parashuram [1989]
Music Label: Sangeetha
Music: Hamsalekha
Lyrics: Chi. Udayashankar
Singer: Dr. Rajkumar
Saradaara Baa Balina Sindhoora Lyrics
Movie: Parashuram [1989]
Music Label: Sangeetha
Music: Hamsalekha
Lyrics: Hamsalekha
Singers: Dr. Rajkumar, Swarnalatha
Kadre Thappu Kondre Thappu Lyrics
Movie: Parashuram [1989]
Music Label: Sangeetha
Music: Hamsalekha
Lyrics: T. P. Kailasam
Singer: Puneeth Rajkumar
Thandana Thandana Lyrics
Movie: Parashuram [1989]
Music Label: Sangeetha
Music: Hamsalekha
Lyrics: Hamsalekha
Singers: Dr. Rajkumar, Manjula Gururaj
Eleya Mareyali Naliva Kogile Lyrics
Movie: Parashuram [1989]
Music Label: Sangeetha
Music: Hamsalekha
Lyrics: Chi. Udaya Shankar
Singer: Manjula Gururaj
Comments
comments