September 22, 2017
Arda Chandra Lyrics
Arda Chandra Lyrics: Arda Chandra is a song from an upcoming 2017 Kannada movie 3 Gante 30 Dina 30 Second, written and directed by Madhusudhan. 3 Gante 30 Dina 30 Second features Aru Gowda, Kavya Shetty and others. Jhankar Music is the music label of this movie. This song was composed by Sridhar V. Sambhram with lyrics by Jayanth Kaikini. Arda Chandra was rendered by Sonu Nigam and Sriraksha.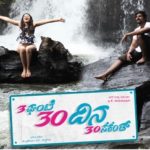 Arda Chandra Lyrics
Movie: 3 Gante 30 Dina 30 Second
Music Label: Jhankar Music
Music: Sridhar V. Sambhram
Lyrics: Jayanth Kaikini
Singers: Sonu Nigam, Sriraksha
Check out the lyrics here..
Arda Chandra Moodidanthe Chandra Ninna Mandahaasa
Ardambarda Haadu Naanu Aagu Neenu Nanna Praasa
Preethi Hechchagutha Poorthi Huchchagutha
Ee Sanje Varna Ranjitha
Uhiso Munna Lokadalli Nanna Entha Badalavane
Aagiye Hoythu Swapnakkiga Nanna Nera Vargavane
Ohoo Gaali Kaddalisi Divya Sallapava
Neenu Kannalli Deepa Hachchutta Ramya Deepothsava
Arda Chandra Moodidanthe Chandra Ninna Mandahaasa
Ardambarda Haadu Naanu Aagu Neenu Nanna Praasa
Saavira Reethi Heli Kooda Preethi Enu Saakagadu
Jeevake Omme Antiknda Gandha Innu Dooraagadu
Kalpana Lokave Ninthide Haththira
Appikondaga Eke Oppanda Muththe Hasthakshara
Arda Chandra Moodidanthe Chandra Ninna Mandahaasa
Ardambarda Haadu Naanu Aagu Neenu Nanna Praasa
Preethi Hechchagutha Poorthi Huchchagutha
Ee Baalu Varna Ranjitha
3 Gante 30 Dina 30 Second Songs
Arda Chandra
Manasu Manasu
Chitra Mathadide
Bitti Buildup
Aaroythu Deepa
Save
Save
Comments
comments