September 22, 2017
Manasu Manasu Lyrics
Manasu Manasu Lyrics: Manasu Manasu is a song from an upcoming 2017 Kannada movie 3 Gante 30 Dina 30 Second, written and directed by Madhusudhan. 3 Gante 30 Dina 30 Second features Aru Gowda, Kavya Shetty and others. Jhankar Music is the music label of this movie. This song was composed by Sridhar V. Sambhram with lyrics by Madhusudhan. Manasu Manasu was rendered by Vijay Prakash.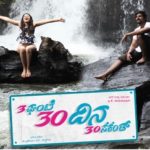 Manasu Manasu Lyrics
Movie: 3 Gante 30 Dina 30 Second
Music Label: Jhankar Music
Music: Sridhar V. Sambhram
Lyrics: Madhusudhan
Singer: Vijay Prakash
Check out the lyrics here..
Manasu Manasu Bereva Hoththu Maathu Mounane
Hareya Vayasu Jothege Iralu Aase Commonnne
Thangaaliyu Theedi Bandaaga Sangathiya Usiru Berethanthe
Simple Aag Ond Lokku Kottaga
Edeya Olage Ondu Joga Haridu Bandu Aache Chimmide
Manasu Manasu Bereva Hoththu Maathu Mounane
Kannu Kannu Kalethu Holeva Minchinalli
Thutiya Thudiya Thuluko Thunta Naguvinalli Naguvinalli
Kanasugala Hudukaata Aasegala Tholalaata
Nanna Hrudayada Thaala Thappide Preethiyanonde Araside
Manasu Manasu Bereva Hoththu Maathu Mounane
Lekkada Maathu Pakkake Sarisi Onmme Nodu
Hrudayada Kadava Theredu Omme Inuki Nodu
Adagihude Anuraaga Araluvude Hosa Raaga
Ninna Hrudaya Thumbi Haadali Padave Irada Haadanu
Manasu Manasu Bereva Hoththu Maathu Mounane
Hareya Vayasu Jothege Iralu Aase Commonnne
3 Gante 30 Dina 30 Second Songs
Arda Chandra
Manasu Manasu
Chitra Mathadide
Bitti Buildup
Aaroythu Deepa
Save
Comments
comments