June 2, 2018
Baa Mutthu Koduve Kandane Lyrics
Baa Mutthu Koduve Kandane Lyrics: Baa Mutthu Koduve Kandane is song from the 1983 Kannada movie Kaamana Billu [Kamanabillu], directed by Chi. Dattaraj. The film was produced by J. Jayamma under the banner Padmavathi Cine Art Combines.
Kaamana Billu features Dr. Rajkumar, Anant Nag, Saritha, T. N. Balakrishna, K. S. Ashwath, Thoogudeepa Srinivas, Shivaprakash, Rajanand, Mysore Lokesh, Vishwanath, Umesh, Sadashiva Bramhavar, Thimmayya, Ashwath Narayan, Go Ra Bheemarao, Somashekar Rao, Anu, Papamma, Shanthamma, Uma Shivakumar, Shobha, Kaminidharan, Nagarathnamma, Rathnamma, Malathi, Neegro Johny and others.
The film was based on the novel Mrigathrushna by writer Ashwini. Sangeetha music is the audio label of this movie. This song was composed by Upendra Kumar with lyrics penned by Chi. Udaya Shankar. Baa Mutthu Koduve Kandane song was rendered by Dr. Rajkumar.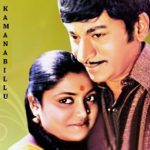 Baa Mutthu Koduve Kandane Lyrics
Movie: Kaamana Billu [1983]
Music Label: Sangeetha
Music: Upendra Kumar
Lyrics: Chi. Udaya Shankar
Singer: Rajkumar
Check out the lyrics here..
Baa Mutthu Koduve Kandane Nanna Muddu Raja
Baa Mutthu Koduve Kandane Nanna Muddu Raja
Ninna Havaladantha Thutige Indu – Endu Naanu
Baa Mutthu Koduve Kandane Nanna Muddu Raja
Baa Mutthu Koduve Kandane Nanna Muddu Raja
Ninna Mogavannu Kandaaga Naachi
Shahsi Modadali Mareyaadanu
Ninna Thuntaata Nodi Beragaagi
Krishan Gudiyalli Shileyaadanu
Neenaado Thodala Nudi Aragainiya Maathanthe
Neenaado Thodala Nudi Aragainiya Maathanthe
Savi Jena Haniyantha Nanna Muddu Raja
Mutthu Koduve Kandane Nanna Muddu Raja
Baa Mutthu Koduve Kandane Nanna Muddu Raja
Ninna Havaladantha Thutige Indu – Endu Naanu
Baa Mutthu Koduve Kandane Nanna Muddu Raja
Baa Mutthu Koduve Kandane Nanna Muddu Raja
Nakku Nalivaaga Beladingalanthe Neenu Atthaaga Sangeeethavu
Anda Bangarada Bombeyanthe Kanda Ee Manege Nee Pranavu..
Ninnanu Bannisalu Nannalii Maathilla
Ninnanu Bannisalu Nannalii Maathilla
Nee Nanna Usiratnthe Nanna Muddu Raja
Mutthu Koduve Kandane Nanna Muddu Raja
Baa Mutthu Koduve Kandane Nanna Muddu Raja
Ninna Havaladantha Thutige Indu – Endu Naanu
Baa Mutthu Koduve Kandane Nanna Muddu Raja
Baa Mutthu Koduve Kandane Nanna Muddu Raja
Albeda Albeda Haal Kudsla
Albeda Chinna Albeda Chinna
Albeda Mari Albeda Mari
Baa Mutthu Koduve Kandane Nanna Muddu Raja |3|
Kaamana Billu [1983] Songs Lyrics
Kannu Kannu Kalethaga Lyrics
Indu Ananda Naa Thalalare
Baa Mutthu Koduve Kandane
Neenaadada Maathu
Negila Hidida
Comments
comments