October 15, 2017
Bettada Huli Song Lyrics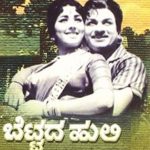 Bettada Huli Song Lyrics: Bettada Huli is a 1965 Kannada movie, directed and written by A.V. Sheshagiri Rao. Bettada Huli features Rajkumar, Jayanthi, Pandari Bai, Udaykumar, K. S. Ashwath, M. P. Shankar, Narasimharaju, B. Jaya and others. Saregama is the music label of this movie.
Songs were composed by T. G. Lingappa with lyrics written by Geethapriya. Songs were rendered by P. B. Sreenivas, S. Janaki, L. R. Eswari, Rudrappa.
Check out the lyrics here..
Aaduthiruva Modagale Lyrics
Movie: Bettada Huli [1965]
Music Label: Saregama
Music: T. G. Lingappa
Lyrics: Geethapriya
Singer: P. B. Sreenivas
Aakashada Lokadi Doora Lyrics
Movie: Bettada Huli [1965]
Music Label: Saregama
Music: T. G. Lingappa
Lyrics: Geethapriya
Singers: P. B. Sreenivas, S. Janaki
Attheya Magale Lyrics
Movie: Bettada Huli [1965]
Music Label: Saregama
Music: T. G. Lingappa
Lyrics: Geethapriya
Singers: S. Janaki, L. R. Eswari, Rudrappa
Madumagalu Naanage Lyrics
Movie: Bettada Huli [1965]
Music Label: Saregama
Music: T. G. Lingappa
Lyrics: Geethapriya
Singer: S. Janaki
Eko Ee Dina Lyrics
Movie: Bettada Huli [1965]
Music Label: Saregama
Music: T. G. Lingappa
Lyrics: Geethapriya
Singer: S. Janaki
Comments
comments