October 15, 2017
Attheya Magale Lyrics
Attheya Magale Lyrics: Attheya Magale is a song from the 1965 Kannada movie Bettada Huli, directed and written by A.V. Sheshagiri Rao. Bettada Huli features Rajkumar, Jayanthi, Pandari Bai, Udaykumar, K. S. Ashwath, M. P. Shankar, Narasimharaju, B. Jaya and others. Saregama is the music label of this movie. This song was composed by T. G. Lingappa with lyrics written by Geethapriya. Attheya Magale was rendered by S. Janaki, L. R. Eswari and Rudrappa.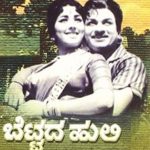 Attheya Magale Lyrics
Movie: Bettada Huli [1965]
Music Label: Saregama
Music: T. G. Lingappa
Lyrics: Geethapriya
Singers: S. Janaki, L. R. Eswari, Rudrappa
Check out the lyrics here..
Attheya Magale Ethake Ragale
Mutthina Kadivaana Ninage Tharuve
Ninage Tharuve
Hoina Hoina Hoina
Hoina Hoina Hoina Hoi
Maanva Magane Maathina Mallane
Maduvege Munche Intha Salige Tharave
Salige Tharave
Chendulli Chenne Ninge Aa Chinte Yaake
Indalla Naale Nanna Jathegooduve
Hoina Hoina Hoina
Hoina Hoina Hoina Hey Hey
Nishchaya Aagovargu Avsara Yaake
Aa Thanka Sumne Yaake Haaraduve
Hoi Kelele Naari Naa Bhramhachaari
Haagdre Eegaagle Sarasa Sariye
Sarasa Sariye
Attheya Magale Ethake Ragale
Maduvege Munche Intha Salige Tharave
Salige Tharave
Nan Thamman Atthige Aaguve Neenu
Nin Thamman Bhaava Naanaguve
Hoina Hoina Hoina
Hoina Hoina Hoina Hey Hey
Nan Kandu Haadone Nakkara Haadone
Heegeke Mankananthe Thooraaduve
Hai Neenomme Nakkare Nangade Sakkare
Bekkasa Beragaade Eko Ariye Eko Ariye
Hoina Hoina Hoina
Hoina Hoina Hoina
O Bhale Bhale Bhale Bhale Hoi
Attheya Magale Ethake Ragale
Mutthina Kadivaana Ninage Tharuve
Ninage Tharuve
Bettada Huli Songs
Aaduthiruva Modagale
Aakashada Lokadi Doora
Attheya Magale
Madumagalu Naanage
Eko Ee Dina
Comments
comments