July 7, 2018
Bhoomi Baana Kaadambari Lyrics | Katheyondu Shuruvagide
Bhoomi Baana Kaadambari Lyrics | Katheyondu Shuruvagide: Bhoomi Baana Kaadambari is a Kannada song from an upcoming 2018 Kannada movie Katheyondu Shuruvagide, written and directed by Senna Hegde. The film was produced by Rakshit Shetty, Pushkara Mallikarjunaiah, G S Gupta, Vinod Divakar and Prasanna Hegde under the banner Paramvah Studios and Pushkar Films.
Katheyondu Shuruvagide features Diganth Manchale, Pooja Devariya, Babu Hirannaiah, Aruna Balaraj, Prakash K Thuminadu, Ashwin Rao Pallakki, Shreya Anchan, Raghu Ramanakoppa, Mime Ramdas, Mandya Jayaram and others. Paramvah Music is the music label of this movie. This song was composed by Sachin Warrier with lyrics penned by Kiran Kaverappa. Bhoomi Baana Kaadambari song was rendered by Sachin Warrier.
The music director of this movie Sachin Warrier is from Kerala. He works predominantly in Malayalam cinema as a singer and composer. He made his debut with the malayalam movie Malarvaadi Arts Club in which he sang two songs Aayiram Katham and Maanya Maha Janangale in the music of Shaan Rahman. but his big break came from the song "Muthuchippi Poloru" from the film Thattathin Marayathu again under Shaan Rahman's music. In the same movie he sang one more song Thattathin Marayathe Penne. His first movie as composer was Aanandam. He composed music for movies like Aanandam, Oraayiram Kinakkalaal, Shibu and Katheyondu Shuruvagide.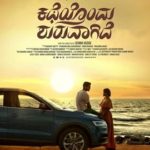 Bhoomi Baana Kaadambari Lyrics
Movie: Katheyondu Shuruvagide [2018]
Music Label: Paramvah Music
Music: Sachin Warrier
Lyrics: Kiran Kaverappa
Singers: Sachin Warrier
Check out the lyrics here…
Bhoomi Baana Kaadambari
Aarohadi Neelaambari
Beeso Gaali Jo Laali Li
Jodi Thaare Geethanjali
Bhavanegala Thoogu Sethuve
Namma Naduve Moodide
Bhoomi Baana Kaadambari
Aarohadi Neelaambari
Alegalu Manadaalava Hariyalu Bandanthide
Bigidappi Bidale Naa Summane
Alemaari Hrudayada Hasibisi Kanasugala
Baaki Samaachaara Goththagade
Jeevana Anuraaga Doora Theeradi Eega
Kelitheneno Helitheneno
Bhoomi Baana Kaadambari
Aarohadi Neelaambari
Beeso Gaali Jo Laali Li
Jodi Thaare Geethanjali
Bhavanegala Thoogu Sethuve
Namma Naduve Moodide
Katheyondu Shuruvagide [2018] Songs:
Daariya Kaledukondide
Bhoomi Baana Kaadambari
Good Morning
Dheemtha Dheemtha
Comments
comments