February 13, 2018
Mareyalaare Samskruthi Lyrics
Mareyalaare Samskruthi Lyrics: Mareyalaare Samskruthi is a song from the 1982 Kannada movie Antharala [Antarala], directed by Suresh Heblikar. The film was produced under the banner Anubhava Films (P) Ltd. screenplay and dialogues by G S Sadashiva. Antharala features Suresh Heblikar, Mamatha Rao, Ramesh Bhat, Sundar Krishna Urs, Kaveri, Katte Ramachandra, Sridhar, Basanth, B S Achar, Rotti, Ve Mu Joshi, Venkatesh Prasad and others.
Sangeetha is the music label of this movie. This song was composed by L. Vaidyanathan with lyrics of M.N. Vyasa Rao. This song Mareyalaare Samskruthi was rendered by Rajkumar Bharathi.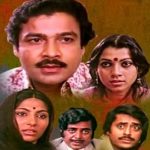 Mareyalaare Samskruthi Lyrics
Movie: Antharala [1982]
Music Label: Sangeetha
Music: L. Vaidyanathan
Lyrics: M.N. Vyasa Rao
Singer: Rajkumar Bharathi
Check out the lyrics here..
Mareyalaare Samskruthi
Nudisalaare Sama Shruthi
Kanaso Nanaso Ariyenu
Kaanadaagide Kaanadaagide
Mareyalaare Samskruthi
Nudisalaare Sama Shruthi
Kanaso Nanaso Ariyenu
Kaanadaagide Kaanadaagide
Nayanadalli Narthana
Nage Baanadalle Bandhana
Saviya Maathu Hoorana
Shruthi Raaga Milana Jeevana
Rambeyara Kanninalli Banna
Bannada Kanasannu Kande
Sahaja Baduke Dooravaagi
Mere Meeride Mere Meeride
Mareyalaare Samskruthi
Nudisalaare Sama Shruthi
Kanaso Nanaso Ariyenu
Kaanadaagide Kaanadaagide
Rasika Raaga Rangide
Sukha Paana Kaveda Gungide
Jagava Suththi Sothihe
Bhrame Theli Nanna Musukide
Ee Novina Aaladalli Nanna
Olume Hoovannu Kande
Kaththalalli Minchi Belaku
Belli Moodide Belli Moodide
Mareyalaare Samskruthi
Nudisalaare Sama Shruthi
Kanaso Nanaso Ariyenu
Kaanadaagide Kaanadaagide
Antharala Songs
Ekamma Sheelamma
Mareyalaare Samskruthi
Nenapinali Kanasinali
Raagi Thandeera
Comments
comments