February 3, 2018
Idhenu Sabhyathe Lyrics
Idhenu Sabhyathe Lyrics: Idhenu Sabhyathe is a song from the 1968 Kannada movie Mannina Maga, written and directed by Geethapriya in his directorial debut. The film was produced by M V Venkatachalam and Alexandar under the banner Sudarshan Movies. The film was a great hit and went on to win National Film Award for Best Feature Film in Kannada.
Mannina Maga features Dr. Rajkumar, Kalpana, Jayakumari, M P Shankar, H R Shastry, Dikki Madhavarao, Niranjan, Vijayaprasad, Ashwath Narayana, Jaya, Shanthamma, Indiradevi, Leela, Jayachithra, Sumithra, Vijaya and others. Saregama was the music label of this movie.
This song was composed by Vijaya Bhaskar with lyrics penned by Geethapriya himself. This song Idhenu Sabhyathe was rendered by P. Susheela.
This song is talks about the changes happening in the society in the name modernization. How the so called civilized society people are loosing the values of life in the pursuit of their western influence. How we are loosing our culture, ethnicity and values. The song also reminds us about the sacrifice of people for the freedom our nation which we are enjoying now. This song is still relevant and it got some great lyrics and it was beautifully rendered by Susheelamma.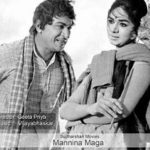 Idhenu Sabhyathe Lyrics
Movie: Mannina Maga [1968]
Music Label: Saregama
Music: Vijaya Bhaskar
Lyrics: Geethapriya
Singer: P. Susheela
Check out the lyrics here..
Idhenu Sabhyathe..
Idhenu Samskruthi..ee
Idhenu Sabhyathe
Idhenu Samskruthi
Indhena Hindu Sabhyathe
Idhena Namma Jagruthi
Endu Nondu Keluthihalu Namma Thayi Bharathi
Idhenu Sabhyathe
Idhenu Samskruthi
Enitho Desha Bhaktharu
Harisi Thamma Nettharu
Daasyadinanda Nammanu Bidisi Amaraadaru
Amara Raama Raajyada Kanasu Kandevandu
Bariya Bedabhavava Kaanuthihevu Indu
Kaanuthihevu Indu
Idhenu Sabhyathe
Idhenu Samskruthi
Deshavannu Kaayuthiharu Gadiagalli Yodharu
Namage Anna Needalu Dudiyuthiharu Raitharu
Avara Thayaga Dhudimeya Parive Namage Illa
Gandhi Neharu Shastriyannu Naavu Marethevalla
Naavu Marethevalla
Idhenu Sabhyathe
Idhenu Samskruthi
Deshada Samasyegalu Iralu Koti Koti
Adanu Marethu Saaigde Fashion-Nina Paipoti
Maana Mucchikollalu Kelavarige Batte Illa
Poorthi Mai Mucchalu Kelavarige Manasilla
Kelavarige Manasilla
Idhenu Sabhyathe
Idhenu Samskruthi
Mannina Maga [1968] Songs
Bhagavantha Kaikotta
Idhenu Sabhyathe
Bareyada Kaigalu
Mellage Nadeyole
Aluthihudhu Maanava
Comments
comments