February 3, 2018
Aluthihudhu Maanava Lyrics
Aluthihudhu Maanava Lyrics: Aluthihudhu Maanava is a song from the 1968 Kannada movie Mannina Maga, written and directed by Geethapriya in his directorial debut. The film was produced by M V Venkatachalam and Alexandar under the banner Sudarshan Movies. The film was a great hit and went on to win National Film Award for Best Feature Film in Kannada.
Mannina Maga features Dr. Rajkumar, Kalpana, Jayakumari, M P Shankar, H R Shastry, Dikki Madhavarao, Niranjan, Vijayaprasad, Ashwath Narayana, Jaya, Shanthamma, Indiradevi, Leela, Jayachithra, Sumithra, Vijaya and others. Saregama was the music label of this movie.
This song was composed by Vijaya Bhaskar with lyrics penned by Geethapriya himself. This song Aluthihudhu Maanava was rendered by legendary P. B. Sreenivas.
This song is about the society where bad people dominates and where humanity suffers in the hands of evil people who are very selfish and manipulate truth and disguise themselves in the name of elite people. Geethapriya's lyrics talks about the double standard and the defeat of justice in front of injustice. good song with good lyrics.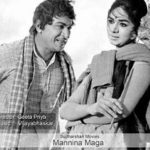 Aluthihudhu Maanava Lyrics
Movie: Mannina Maga [1968]
Music Label: Saregama
Music: Vijaya Bhaskar
Lyrics: Geethapriya
Singer: P. B. Sreenivas
Check out the lyrics here..
Aluthihudhu Maanavathe
Naguthihadu Dhaanavathe
Sotheya Adharmake Dharma Devathe
O Dharma Devathe
Aluthihudhu Maanavathe
Naguthihadu Dhaanavathe
Sotheya Adharmake Dharma Devathe
O Dharma Devathe
Aluthihudhu Maanavathe
Naguthihadu Dhaanavathe
Sotheya Adharmake Dharma Devathe
O Dharma Devathe
Huligalu Mereyuthire Veshadali Govina
Shatruvu Iruvanu Roopadali Mithrana..
Hudukuveya Amruthava Hallinali Haavina
Thayagigalige Ellide Jagadi Maanyathe
Sotheya Adharmake Dharma Devathe
O Dharma Devathe
Swaartha Rahitha Janarige Swaarthigala Kaatave
Lokavella Thumide Vanchakara Aatave..
Nyayavannu Nambiha Janake Nyaya Bedave
Endu Jagava Keluthihalu Indu Neethi Devathe
Sotheya Adharmake Dharma Devathe
O Dharma Devathe
Ondu Maneya Urulisi Thaanu Mahadi Kattuva
Thaanu Maathra Uliyalu Parara Thaleya Mettuva
Parara Sukhava Alisutha Thanna Sukhava Belesuva
Vanchakara Aashrayadi Beleyuthire Dhoorthathe
Sotheya Adharmake Dharma Devathe
O Dharma Devathe
Mannina Maga [1968] Songs
Bhagavantha Kaikotta
Idhenu Sabhyathe
Bareyada Kaigalu
Mellage Nadeyole
Aluthihudhu Maanava
Comments
comments