April 1, 2018
Nammoora Hammeera Song Lyrics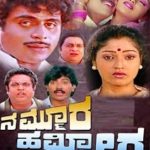 Nammoora Hammeera Song Lyrics: Nammoora Hammeera is a 1990 Kannada movie, directed by Peraala and written by Vijaya Bapineedu. The film was produced by B H Bucchi Reddy under the banner of M J Art Picture. Nammoora Hammeera features Ambareesh, Suman Ranganathan, Devaraj, Mukhyamantri Chandru, Umashree, Dinesh, C R Simha, Sathyajith, Hemanth Kumar, Disco Shanthi, Sadashiva Brahmavar, Janardhan, Shani Mahadevappa, Jayashree, Sathyabhama, Latha and others.
This movie is a remake of 1988 Telugu film Khaidi No.786, starring Chiranjeevi. Lahari Music was the music label of this movie. All songs were written and composed by Hamsalekha. Songs were rendered by legendary singers S. P. Balasubrahmanyam and Manjula Gururaj.
Check out the lyrics here..
Kogile O Kogile Lyrics
Music Label: Lahari Music
Movie: Nammoora Hammeera [1990]
Music: Hamsalekha
Singers: S. P. Balasubrahmanyam, Manjula Gururaj
Lyrics: Hamsalekha
Aaseyu Munde Munde Lyrics
Music Label: Lahari Music
Movie: Nammoora Hammeera [1990]
Music: Hamsalekha
Singers: S. P. Balasubrahmanyam, Manjula Gururaj
Lyrics: Hamsalekha
Ammamma Gumma Lyrics
Music Label: Lahari Music
Movie: Nammoora Hammeera [1990]
Music: Hamsalekha
Singers: S. P. Balasubrahmanyam, Manjula Gururaj
Lyrics: Hamsalekha
Gaali Gaali Nammoora Lyrics
Music Label: Lahari Music
Movie: Nammoora Hammeera [1990]
Music: Hamsalekha
Singers: S. P. Balasubrahmanyam
Lyrics: Hamsalekha
Kaveriya Dande Lyrics
Music Label: Lahari Music
Movie: Nammoora Hammeera [1990]
Music: Hamsalekha
Singers: Manjula Gururaj
Lyrics: Hamsalekha
Comments
comments