September 19, 2017
Ra Ra Gopal Lyrics
Ra Ra Gopal Lyrics: Ra Ra Gopal is a song from an upcoming 2017 Kannada movie Anveshi, directed by Vemagal Jagannatha Rao. Anveshi features Ramya Barne, Thilak, Anu Aggarwal, Raghu Bhat, Shraddha Sharma and others. Zee Music Co. is the music label of this movie. This song was composed by Hemanth Kumar with lyrics written by Rekha Mohan. Ra Ra Gopal was rendered by Shamitha Malnad.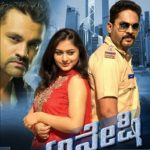 Ra Ra Gopal Lyrics
Movie: Anveshi [2017]
Music: Hemanth Kumar
Music Label: Zee Music Co.
Lyrics: Rekha Mohan
Singer: Shamitha Malnad
Check out the lyrics here..
Raa Raa Gopala Lagaysu Lovely Rangeela
Raa Raa Gopala Lagaysu Lovely Rangeela
Ayyayyo Enathu Goththilla Naane Naanalla
Ee Age'ali Ee Time'ali Kansonde Namma Kannali
Naa Ninnali Nee Nannali Innenu Beku Life'alli
Thesuko Raa Raa Gopala Ninge Ee Raadha
Ayyayyo Jaaji Suridange Maiyella Kampiside Hoyla
Hey Jaruththa Muththina Zariyalli
Naavaduththa Chaliyalli
Thadanathana Haadu Haadi Maleyalli
Musickku Joragide Illi
Pisuguttuththa Kiviyalli
Ee Lovely Lookku Kannalli
Break Illade Breaking Newsali Naanu Neenene
Saddagtha Gullayithu Namma Preethi Thane
Hardwareali Softwareali Naanu Neenene
Wifina Networkali Namma Maathu Thane
Muchchilla Mareyu Illa Seeda Saada Huduga Naanu
Neene Nanna Raani Jenu
Thesuko Raa Raa Gopala Ninge Ee Raadha
Ayyayyo Jaaji Suridange Maiyella Kampiside Hoyla
Nange Ee Raadha Ooo Ninge Ee Raadha
Superstar Indu Nange Neene Nan Crazystaru Neene
Nan Raajkumaru Rajkapooru Neenene
Nangathu Super Jodi Neene Nan Shakilanu Neene
Nan Heartallu Neenene
Aa Ridingali Wheelingali Bestu Neenene
Boxingali Dansingali Bestu Hero Neenene
Are Lovingali Timingali Bestu Neenene
Ee Urali Ee Worldali Nange Ella Neene
Aa Sullalla Reelu Alla Ishtu Preethi Madtinalla
Intha Hudugi Sikkodilla
Gopala Theesuko Raa Raa
Theesuko Raa Raa Gopala Ninge Ee Raadha
Nange Ee Raadha Oo Ninge Ee Radha
Anveshi Songs
Toogi Toogi
Kamana Billige Bannava
Preethiya Kare
Ra Ra Gopal
Ole Ole
Ee Mohaka
Save
Comments
comments