August 30, 2019
Geetha Kannadiga Song Lyrics Video Released | Ganesh Puneeth Rajkumar
Geetha Kannadiga Song Lyrics Video Released | Ganesh Puneeth Rajkumar: Kannadiga is a first single from an upcoming Kannada movie Geetha, written and directed by Vijay Naagendra in his directorial debut. Geetha Song Lyrics Video was released yesterday and it is getting great response in YouTube.
In Kannadiga Song Lyrics Video we can see few footage of recording of the song in the studio. The video starts with Ganesh welcoming Puneeth by giving him a flower bouquet. As the song begins we can see few pics of Ganesh from the movie with very serious look as an Kannada activist. The song starts with two famous lines 'Kannadave Sathya,  Kannadave Nithya' of The great Kannada writer Kuvempu.
Then the video switches back to the recording of the song where we can see Puneeth Rajkumar singing his lines and  Ganesh standing beside him wearing headphones and music director Anup on the right side of Puneeth.
There are few stills of Dr. Rajkumar and Shankar Nag during the Gokak Movement. There is line in the song 'Naadu  Nudi Horaatakke Annavre Nethara' meaning 'Annavru [Dr Rajkumar] is the leader for the fight to protect Our Language and Land.
Kannadiga Song Lyrics were written by Santosh Anand Ram and the song was composed by Anup Rubens. This first single from the movie was rendered by none other than the Power Star Puneeth Rajkumar.
We all know that Puneetha is not only an actor but he is singer too. He started singing as child artist. some of his memorable renditions includes songs like 'Baana Dariyalli Soorya' from Bhagyavantha, 'Kaanadante Maayavadano'  from Chalisuva Modagalu, 'Kannige Kaanuva Devaru' from Yaarivanu, 'Bisile Irali Maleye Barali' from Bettada Hoovu.
He continued playback singing for his own movies after he became a lead actor. But gradully he strated to sing for  other actors too. in recent times he had lent his voice for the songs like Mina Mina' from Ratnamanjarii, Kavaludaari Title Track, 'Aa Deva Roopisisda Andadaa Gombe' from Aa Deva Roopisisda Andadaa Gombe and 'Rangeride' from Vaasu Naan Pakka Commercial.
Geetha film features Golden Star Ganesh, Shanvi Srivastava, Prayaga Martin, Sudharani, Devaraj, Parvathy Arun,  Ranghayana Raghu, Achuth Kumar and Others. The film was produced by Shilpa Ganesh and Syed Salam under the banner Golden Movies and S S Films.
The female lead Shanvi Srivastava made her Kannada debut through the horror film Chandralekha in 2014. Since then she had acted in movies like Masterpiece [2015] with Yash, Bhale Jodi [2016], Sundaranga Jaana [2016], Saheba [2017], Tarak [2017] with Darshan, Mufti [2017] and others. Her upcoming films apart from Geetha are Ravichandra and Avane Srimannarayana with Rakshit Shetty.
Geetha marks the Kannada debut of Malayalam actress Prayaga Martin. She acted in number of Malayalam movies like Pisaasu [Tamil], Oru Murai Vanthu Parthaya, Fukri, Pokkiri Simon, Brother's Day etc..
Kannadiga Kannadiga is all about Kannada, Kannadiga and Karnataka. This song is going to join the long list of hit  song about Kannada. The teaser of Geetha released earlier has created lot of expectation for this movie.
Check out the Top 50 Kannada Rajyothsava Songs here:  http://lyricsraaga.com/articles/top-50-kannada-rajyothsava-songs/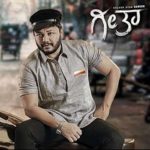 Kannadiga Song Lyrics Video Released
Film: Geetha [2019]
Music: Anup Rubens
Lyrics: Santosh Anand Ram
Singer: Puneeth Rajkumar
Cast: Ganesh, Shanvi Srivastava, Prayaga Martin, Sudharani
Comments
comments