March 4, 2020
Nooru Janma Koodi – Jothe Jotheyali Kannada Serial Song Lyrics
Nooru Janma Koodi – Jothe Jotheyali Kannada Serial Song Lyrics: Nooru Janma Koodi Baaluva is a title song of the Popular Kannada TV serial Jothe Jotheyali telecasted in Zee Kannada from Monday to Friday 8:30 PM.
The story of this serial is about the relationship between Aryavardhan – 45 year old business man, and Anu – 20 year old middle class girl. Jothe Jotheyali Kannada Serial is directed by Arooru Jagadeesh and produced by Smitha Jagadish Shetty under the banner JS Production.
The screenplay of this serial was written by Pawan Shrivatsa, Rashmi Abhay Simha, Sudindra Bharadwaj, M N Jayanth and Dialogues were penned by Satyaki. Santosh Karvi is the Cinematographer.
This serial has lot of popularity and it is attracting immense viewership. The title track Nooru Janma Koodi Baaluva Jodi Nammadu is become as popular as the serial.
Nooru Janma Koodi Baaluva song lyrics were penned by Harsha Priya Bhadravathi and composed by Sunadh Gowtham. This song was rendered by Ninaada Nayak, Nihaal Thavro, and Rajath Heggade.
Jothe Jotheyali Kannada Serial features Anirudh as Aryavardhan, Megha Shetty as Anu Sirimane, Manasa Manohar as 'Meera Hegde', BM Venkatesh as Keshava Jhende, Vijayalaskshmi Singh as 'Sharada Devi' [Aryavardhan's Mother], Apurvashree as Pushpa Sirimane, Priyadarshini as 'Ramya' [Anu's Friend], Pruthvi Ambar as Neel, Rama and others.
The lead role Aryavardhan was portrayed by actor Aniruddha Jatkar. He made is debut in 2001 Kannada film Chitte. He shot to fame with his role in the movie Tuntata. some of this memorable roles includes Ijjodu, Tamashegagi, Shabari Male Yatre, and Raja Simha. He made his Tamil debut in 2002 film Mutham directed by S. A. Chandrashekar. He is married to famous Kannada actor Vishnuvardhan and Bharathi Vishnuvardhan's daughter Keerthi Vishnuvardhan.
Jothe Jotheyali Kannada Serial is a remake of Marathi serial Tula Pahate Re that was aired on Zee Marathi. The serial was directed by Girish Mohite and written by Abhijit Guru, Shekhar Dhavalikar and Sharvari Patankar.
Tula Pahate Re cast includes Subodh Bhave, Gayatri Datar, Shilpa Tulaskar, Abhidnya Bhave, Umesh Jagtap, Vidya Karanjikar, Aashutosh Gokhale, Purnima Dey, Mohiniraj Gatne, Gargi Phule, Sandesh Jadhav, Sonal Pawar, Prathamesh Deshpande, Malhar Subodh Bhave, and others.
Tula Pahate Re was being in remade in Kannada as Jothe Jotheyali and in Tamil as Neethane enthan poovasthan on Zee Tamil. It is going to be remade in Malayalam as Neeyum njanum on Zee Kerelam and in Telugu as Prema Entha Madhuram on Zee Telugu.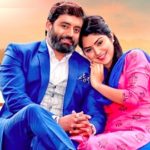 Song: Nooru Janma Koodi Baaluva
Serial: Jothe Jotheyali
Music: Sunadh Gowtham
Lyrics: Harsha Priya Bhadravathi
Singers: Ninaada Nayak, Nihaal Thavro, Rajath Heggade
Cast: Anirudh, Megha Shetty
Check out the lyrics of Nooru Janma Koodi Baaluva Song here..
Nooru Janma Koodi Baaluva Jodi Nammadu
Yella Elle Meeridaagalu Payana Nilladu
Jarivaa Janaredurinalli
Ninna Neralaagi Nilluve
Jagadaa Kone Thiruvavaregu
Beralaa Naa Hididu Nadeyuve
Athiyaadaru Hithavaagide
Ninna Nenapa Mamparu
Nanna Baalige Varavaagide
Ninna Preethiya Thunthuru
Ithihaasa Hindendu Kaanada
Hosa Prema Bhashe Barevaa
Prathi Premigaligu Guri Thoruva
Daarili Naavu Nadevaa..
Nooru Janma Koodi Baaluva Jodi Nammadu
Yella Elle Meeridaagalu Payana Nilladu
Gari Bichchida Navilaaguve
Nee Bandare Yedurige
Gadi Paarina Saje Needuve
Nee Illada Kanasige
Yedeyolage Ninnannu Malagisi
Laaleenaa Haaduthiruve
Yede Baditha Nidireyanu Thadedare
Usiraatavanne Biduve..
Nooru Janma Koodi Baaluva Jodi Nammadu
Yella Elle Meeridaagalu Payana Nilladu
Jarivaa Janaredurinalli
Ninna Neralaagi Nilluve
Jagadaa Kone Thiruvavaregu
Beralaa Naa Hididu Nadeyuve
Yendu Naaniruve Jothe Jotheyali
Jothe Jotheyalli
Yendu Naaniruve Jothe Jotheyali
Jothe Jotheyalli
Comments
comments