June 2, 2021
Srinath and Manjula Movies List | Pranaya Raja Srinath Filmography
Srinath and Manjula Movies List | Pranaya Raja Srinath Filmography: Actors Srinath and Manjula had acted together in several Kannada hit movies. Even though they both appeared In the 1973 Kannada movie 'Mooroovare Vajragalu', they didn't had any combination scenes in that movie. In few movies they were part of the movie but not as pairs but in different roles some of them are Sri Srinivasa Kalyana [1974], Mayura [1975]  etc..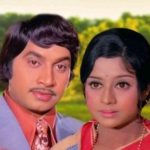 Actor Srinath made his acting debut in the 1967 Kannada movie Lagna Pathrike, directed by K. S. L. Swamy featuring Rajkumar and Jayanthi in lead roles. But it was 1975 movie 'Shubhamangala' directed by Puttanna Kanagal that made him a star.
He went onto act in more than 350 films in his long career. Srinath is fondly called Pranaya Raja meaning 'King of Romance' by his fans.
Actress Manjula made her acting debut through the 1966 Kannada film Mane Katti Nodu, in a small role. Her debut as a heroine was in the 1972 film Yaara Saakshi, directed by M. R. Vittal. She went on act in more than 100 films with leading actors of Kannada cinema.
The pair of Srinath and Manjula is very famous one in Kannada cinema industry. They have appeared in more than 40 films and they acted in more than 30 films as pairs. Here in this post, we have made an attempt to list out Srinath and Manjula Kannada movies.
Srinath and Manjula Movies List
1. Mooroovare Vajragalu [1973]
Director: Y. R. Swamy
Story: Arun Kumar
Music: R. Sudarshan
Lyrics: Chi. Sadashivaiah, Chi. Udaya Shankar
Cast: Srinath, Aarathi, Jayanti, Vajramuni
Production: Chamundeshwari Studio
2. Sri Srinivasa Kalyana [1974]
Director: Vijay
Cinematography: Chittibabu
Music: Rajan–Nagendra
Lyrics: Chi. Udayashankar
Cast: Dr. Rajkumar, B. Saroja Devi
Production: Srinivasa Art Combines.
3. Mayura [1975]
Director: Vijay
Cinematography: Annayya, Mallik
Music: G. K. Venkatesh
Lyrics: Chi. Udaya Shankar
Cast: Dr. Rajkumar, Balakrishna
Production: Ramesh Movies
4. Ninagagi Naanu [1975]
Director: Sridhar
Story: Sridhar
Music: Vijaya Bhaskar
Lyrics: Chi. Udaya Shankar
Cast: Lokesh, Shivaram, Manorama
Production: Sri Eshwari Productions
5. Nireekshe [1975]
Director: Kovi Manishekaran
Story: Kovi Manishekaran
Music: G. K. Venkatesh
Lyrics: K.R. Seetharama Shastry, Chi Udayashankar
Cast: Kalpana, Adavani Lakshmidevi
Production: Goodwin Productions
6. Hennu Samsarada Kannu [1975]
Director: A. V. Sheshagiri Rao
Story: Ba. Su. Mani
Music: Vijaya Bhaskar
Lyrics: Chi. Udayashankar
Cast: K. S. Ashwath, Balakrishna, Leelavathi
Production: Anandi Films
7. Hudugatada Hudugi [1976]
Director: Amrutham
Story: T. N. Balu
Music: M. Ranga Rao
Lyrics: Chi. Udayashankar
Cast: Sampath, Indrani, Ambareesh
Production: Anjugam Pictures
8. Baduku Bangaravayithu [1976]
Director: A. V. Sheshgiri Rao
Story: K. N. Salunke
Music: M. Ranga Rao
Lyrics: Chi. Udayashankar
Cast: Jayanthi, Rajesh, K. S. Ashwath
Production: Bhuvaneshwari Art Productions
9. Chiranjeevi [1976]
Director: A. Bheem Singh
Story: Shakthi Samantha
Music: Vijaya Bhaskar
Lyrics: Vijayanarasimha, R. N. Jayagopal
Cast: B. Sarojadevi, K. S. Ashwath
Production: Jaivijaya Films
10. Kanasu Nanasu [1976]
Director: Amrutham
Story: T. N. Balu
Music: M. Ranga Rao
Lyrics: Chi. Udayashankar
Cast: K. S. Ashwath, Shivaram
Production: Ananda Vijaya Movies
11. Thulasi [1976]
Director: K. S. L. Swamy
Cinematography: B. Purushottham
Music: Vijaya Bhaskar
Lyrics: K S L Swamy
Cast: Kalyan Kumar, Jayanthi
Production: S. P. V. Films
12. Besuge [1976]
Director: Geethapriya
Story: Ashwini
Music: Vijaya Bhaskar
Lyrics: R. N. Jayagopal, Geethapriya & Others
Cast: K. S. Ashwath, Sathyapriya
Production: Srinidhi Films
13. Tayigintha Devarilla [1977]
Director: Y. R. Swamy
Story: K. S. R. Murthy
Music: Rajan-Nagendra
Lyrics: Chi Udayashankar
Cast: Jayanthi, Lokanath, Pramila Joshai
Production: Vajrameshwara Pictures
14. Dhanalakshmi [1977]
Director: K. S. Sathyanarayana
Story: M. D. Sundar
Music: M. Ranga Rao
Lyrics: Chi Udayashankar, Sathyanarayana
Cast: Dwarakish, Shivaram, Dinesh, Leelavathi
Production: Yogesh Chithra
15. Ganda Hendathi [1977]
Director: K S Prakash Rao
Story: Kavilipati Vijayalakshmi
Music: Vijaya Bhaskar
Lyrics: Chi Udayashankar
Cast: Jayanthi, Dinesh, Shivaram
Production: Sri Sathya Chithra
16. Muyyige Muyyi [1978]
Director: Y R Swamy
Story: L S Iyer
Music: Sathyam
Lyrics: Chi Udayashankar, Vijayanarasimha
Cast: Vishnuvardhan, Aarathi, Vajramuni
Production: Mohan Murali Productions
17. Vasantha Lakshmi [1978]
Director: A V Sheshagiri Rao
Cinematography: S V Srikanth
Music: Vijaya Bhaskar
Lyrics: Chi Udayashankar, R N Jayagopal
Cast: Aarathi, Vishnuvardhan, Leelavathi
Production: Vittal Movies
18. Madhura Sangama [1978]
Director: T P Venugopal
Story: T P Venugopal
Music: Rajan-Nagendra
Lyrics: R. N. Jayagopal, Kanagal Prabhakar Shastry
Cast: Ananthnag, Ashok, Dwarakish, Udayakumar
Production: D V R Movies
19. Halli Haida [1978]
Director: Amrutham
Music: M Ranga Rao
Lyrics: Chi Udayashankar
Cast: K.S.Ashwath,Dwarakish,Ambarish
Production: Gajendra Productions
20. Adalu Badalu [1979]
Director: C. V. Rajendran
Story: C V Rajendran
Music: Vijaya Bhaskar
Lyrics: Vijayanarasimha, Doddarange Gowda
Cast: Aarathi, M P Shankar, Dwarakish, Lokanath
Production: Mohan Murali Productions
21. Putani Agent 123 [1979]
Director: Geethapriya
Story: M K Balaji Singh, H V Subba Rao
Music: Rajan-Nagendra
Lyrics: Geethapriya, Doddarange Gowda
Cast: Ambarish, Udayakumar, Sundar Krishna Urs
Production: Varuna Films
22. Pakka Kalla [1979]
Director: Y R Swamy
Story: Y R Ashwathnarayana Rao
Music: Sathyam
Lyrics: Vijayanarasimha, R N Jayagopal
Cast: Ambarish, Vajramuni, K S Ashwath
Production: Shastry Cine Associates
23. Savathiya Neralu [1979]
Director: Y. R. Swamy
Story: Aryamba Pattabhi's Novel
Music: Chellapilla Satyam
Cast: Ambareesh, Leelavathi
Production: Om Shakthi Arts
24. Preethi Madu Thamashe Nodu [1979]
Director: C. V. Rajendran
Screenplay: M D Sundar
Music: Rajan-Nagendra
Lyrics: Chi. Udayashankar
Cast: Shankarnag, Dwarakish, Padmapriya
Production: Dwarakish Chihtra
25. Aliya Devaru [1979]
Director: C. V. Rajendran
Music: M Ranga Rao
Cast: Dwarakeesh, Balakrishna, M.N.Lakshmidevi
Production: R S R Films
26. Rama Parashurama [1980]
Director: Vijay
Story: Pasumani
Music: Rajan-Nagendra
Lyrics: Chi Udayashankar
Cast: Vishnuvardhan, Thoogudeepa Srinivas
Production: Vijay Shekar Movies
27. Manjina There [1980]
Director: Bangalore Nagesh
Story: Sahyadri
Music: Upendra Kumar
Lyrics: Chi Udayashankar
Cast: Thoogudeepa Srinivas, Dinesh
Production: G K Productions
28. Haddina Kannu [1980]
Director: A V Sheshagiri Rao
Story: L S Iyer
Music: Sathyam
Lyrics: Vijayanarasimha, Doddarange Gowda
Cast: Lokesh, Shankarnag, Sundar Krishna Urs
Production: Mohan Muruli Productions
29. Usha Swayamvara[1980]
Director: C V Rajendran
Music: G K Venkatesh
Cast: Ramesh Bhat,Dwarakish
Production:Bhoomi Chithra
30. Point Parimala [1980]
Director: V Somashekar
Music: Rajan-Nagendra
Cast: Vajramuni, Dinesh, Sunder Krishna Urs
Production: Sri Bhargavi Movies
31. Manku Thimma [1980]
Director: Bhargava
Cinematography: D V Rajaram, N K Sathish
Music: Rajan-Nagendra
Lyrics: Chi. Udayashankar
Cast: Padmapriya, Dwarakish, Hema Choudary
Production: Dwarakish Chithra
32. Pattanakke Banda Pathniyaru [1980]
Director: A V Sheshagiri Rao
Story: H N Hoogar
Music: M Ranga Rao
Lyrics: Chi Udayashankar
Cast: Lokesh, Padmapriya, Balakrishna
Production: Bhuvaneshwari Art Productions
33. Premanubandha [1981]
Director: R Ramamurthy
Story: V C Sridhar
Music: Rajan-Nagendra
Lyrics: Chi Udayashankar
Cast: K Vijaya, Dinesh, Manorama, Jayashree
Production: Sri Rama Enterprise
34. Avali Javali [1981]
Director: A V Sheshagiri Rao
Story: L S Iyer
Music: Sathyam
Lyrics: Vijayanarasimha, Doddarange Gowda
Cast: Lokesh, Chandrashekar, Lokanath
Production: Mohan Murali Productions
35. Shikari [1981]
Director: C R Simha
Story: C R Simha
Music: Ilayaraja
Lyrics: Geethapriya, Shyamsundar Kulkarni
Cast: Leelavathi, Vajramuni, Tiger Prabhakar
Production: Abhinaya
36. Hasyaratna Ramakrishna [1982]
Director: B. S. Ranga
Story: B S Ranga
Music: T G Lingappa
Lyrics: Chi Udayashankar
Cast: Ananthnag, Aarathi, K S Ashwath, Dinesh
Production: Varna Productions
37. Guna Nodi Hennu Kodu [1982]
Director: A V Sheshagiri Rao
Story: K N Salunke, Bhuvaneshwari Art Movies
Music: M Ranga Rao
Lyrics: R N Jayagopal, Doddarange Gowda
Cast: Jai Jagadish, Pramila Joshai, Indrajith
Production: Bhuvaneshwari Art Movies
38. Snehada Sankole [1982]
Director: A Kashilingam
Music: G K Venkatesh
Cast: Ambarish, Dwarakish, Leelavathi
Production: Mutthu Meenakshi Movies
39. Enka Manka [1984]
Director: K S Sathyanarayana
Story: K S Sathyanarayana
Music: G K Venkatesh
Lyrics: K S Sathyanarayana
Cast: Balakrishna, Shivaram, Shakthi Prasad
Production: Prince Pictures
Comments
comments