December 9, 2018
Petta Tarcklist – Petta Audio Released | Rajinikanth Anirudh Ravichander
Petta Tarcklist – Petta Audio Released | Rajinikanth Anirudh Ravichander: The audio album of upcoming Tamil movie Petta is released today in a grand function held at Sri Sairam Engineering College, Chennai.
The album contains 11 tracks including 6 songs and 5 Theme and background score. Sony Music is the audio label of this film. Three songs Marana Mass, Ullaallaa and Petta Paraak were written by lyricist Vivek. Actor Dhanush, director Karthik Subbaraj and Ku Karthik had written one song each.
Playback singers S. P. Balasubrahmanyam, Nakash Aziz, Inno Genga, Anthony Daasan, Sarwar Khan, Sartaz Khan Barna have lent their voices along with Anirudh Ravichander.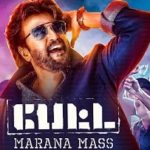 A Karthik Subbaraj directorial venture Petta features Superstar Rajinikanth as Kaali in his 165th film, Vijay Sethupathi as Jithu, Nawazuddin Siddiqui as Singaar Sing, Trisha as Saro, Simran, Megha Akash, Bobby Simha, M. Sasikumar, Guru Somasundaram, director J. Mahendran, Yogi Babu, Sananth Reddy, Malavika Mohanan, Ramdoss, Manikandan R. Achari, Shabeer Kallarakkal and others.
Petta produced by Sun Pictures is scheduled to be released on 14 January 2019.
Check out Petta Tracklist here..
Marana Mass
Music by: Anirudh Ravichander
Lyrics by: Vivek
Singers: S. P. Balasubrahmanyam  and Anirudh
Ullaallaa
Music by: Anirudh Ravichander
Lyrics by: Vivek
Singers: Nakash Aziz, Inno Genga
Ilamai Thirumbudhe
Music by: Anirudh Ravichander
Lyrics by: Poet-u Dhanush
Singers: Anirudh Ravichander & Chorus
Petta Paraak
Music by: Anirudh Ravichander
Lyrics by: Vivek
Singers: Anirudh Ravichander and Chorus
Aaha Kalyanam
Music by: Anirudh Ravichander
Lyrics by: Ku Karthik
Singer: Anthony Daasan
Thappad Maara
Music by: Anirudh Ravichander
Lyrics by: Karthik Subbaraj
Singers: Sarwar Khan and Sartaz Khan Barna
Kaali Theme
Instrumental
Music by: Anirudh Ravichander
Jithu Theme
Instrumental
Music by: Anirudh Ravichander
Petta Theme
Instrumental
Music by: Anirudh Ravichander
Madura Petta
Instrumental
Music by: Anirudh Ravichander
Singaar Sing
Instrumental
Music by: Anirudh Ravichander
Comments
comments