April 18, 2018
Punniyam Thedi Kasikku Song Lyrics
Punniyam Thedi Kasikku Song Lyrics: Punniyam Thedi Kasikku is a song from the 2001 Tamil movie Kasi [Kaasi], written and directed by Vinayan and produced by Aroma Mani under Sunitha Productions.
Kasi features Vikram, Kaveri, Kavya Madhavan, Manivannan, Vinu Chakravarthy, Rajeev, Chandrasekhar, Charle, Thalaivasal Vijay, Balaji, Suchitra Murali, Vadivukkarasi, Aishwarya, Manka Mahesh, Karthika and others.
Kasi marks the Tamil debut of malayalam actress Kavya Madhavan. This film was a remake of the Vasanthiyum Lakshmiyum Pinne Njaanum, A 1999 Malayalam film directed by Vinayan himself featuring Kalabhavan Mani. The film was also remade in Telugu as Seenu Vasanthi Lakshmi starring R. P. Patnaik and in Kannada as Namma Preethiya Ramu featuring Darshan in the lead role.
Five Star Audio is the music label of this movie. This song was composed by Maestro Ilaiyaraaja with lyrics penned by Palani Barathi. Punniyam Thedi Kasikku song was rendered by the one and only Hariharan.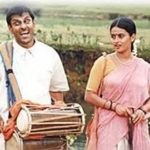 Punniyam Thedi Kasikku Lyrics
Movie: Kasi [2001]
Music Label: Five Star Audio
Music: Ilaiyaraaja
Lyrics: Palani Barathi
Singer: Hariharan
Check out 'Punniyam Thedi Kasikku Lyrics' here..
Punniyam Thedi Kasikku Povaar Ingu Nam Naattinile
Indha Kaasiyai Thedi Yaaru Varuvaar Indha Ulagatthile
Punniyam Thaedi Kaasikku Povaar Ingu Nam Naattinile
Indha Kaasiyai Thaedi Yaaru Varuvaar Indha Ulagatthile
Paavam Pokkidum Gangaiyin Punidham Ellaarum Arivaar
Indha Paava Piraviyin Kanneer Gangaiyai Inge Yaar Arivaar
Dhaivatthai Thedi Bhakthargal Koottam Aalayam Selludhadi
Oru Paattinil Vaadum Pitthanai Thaedi Dhaivame Vandhadhadi
Punniyam Thedi Kaasikku Povaar Ingu Nam Naattinile
Indha Kaasiyai Thedi Yaaru Varuvaar Indha Ulagatthile
Naetru Varai Suriyanai Nenjil Karpanai Seidhen
Adhu Yedho Endrenni Konden
Indru Vandha Suriyanai Ezhai Koodisaiyil Kanden
Yendhan Ezhisaiyai Alli Thandhen
Raagatthin Koyilil
Naadatthin Dhevane
Vedhatthai Odhave
Vedhanai Theeravae
Kanneerile Uppu Indru Thithikkudhe
Kandukonden Maattrangalai Thantdhadhu Needhaane
Punniyam Thaedi Kaasikku Povaar Ingu Nam Naattinile
Eppozhudhu Eppozhudhu Undhan Mugatthinai Paarpen
Adhil Endhan Mugatthinai Paarpen
Yenna Seidhu Yenna Seidhu Indha Kadan Naan Theerpen
Patta Nandri Kadangalai Theerpen
Etthanai Jenmangal
Vandhaalum Podhaadhu
Satthiyam Paattile
Sonnaalum Theeraadhu
Kangal Illai Paarvai Undu Kandukonden
Oomai Nenjum Paesikindra Vaartthaiyai Kaettene
Punniyam Thaedi Kaasikku Povaar Ingu Nam Naattinile
Indha Kaasiyai Thaedi Yaaru Varuvaar Indha Ulagatthile
Paavam Pokkidum Gangaiyin Punidham Ellaarum Arivaar
Indha Paava Piraviyin Kanneer Gangaiyai Inge Yaar Arivaar
Dhaivatthai Thedi Bhakthargal Koottam Aalayam Selludhadi
Oru Paattinil Vaadum Pitthanai Thaedi Dhaivame Vandhadhadi
Punniyam Thedi Kaasikku Povaar Ingu Nam Naattinile
Indha Kaasiyai Thedi Yaaru Varuvaar Indha Ulagatthile
Kasi Tamil Movie Songs
Naan Kaanum Ulagangal
En Mana Vaanil
Aathorathile Aalamaram
Maanu Tholu Undu
Punniyam Thedi Kasikku
Rokkam Irukura Makkal Manasula
Comments
comments