April 18, 2018
Aathorathile Aalamaram Song Lyrics
Aathorathile Aalamaram Song Lyrics: Aathorathile Aalamaram is a song from the 2001 Tamil movie Kasi [Kaasi], written and directed by Vinayan and produced by Aroma Mani under Sunitha Productions.
Kasi features Vikram, Kaveri, Kavya Madhavan, Manivannan, Vinu Chakravarthy,  Rajeev, Chandrasekhar, Charle, Thalaivasal Vijay, Balaji, Suchitra Murali, Vadivukkarasi, Aishwarya, Manka Mahesh, Karthika and others. Kasi marks the Tamil debut of malayalam actress Kavya Madhavan.
This film was a remake of the Vasanthiyum Lakshmiyum Pinne Njaanum, A 1999 Malayalam film directed by Vinayan himself featuring Kalabhavan Mani. The film was also remade in Telugu as Seenu Vasanthi Lakshmi starring R. P. Patnaik and in Kannada as Namma Preethiya Ramu featuring Darshan in the lead role.
Five Star Audio is the music label of this movie. This song was composed by Maestro Ilaiyaraaja with lyrics penned by Pulamaipithan. Aathorathile Aalamaram song was rendered by singer Hariharan.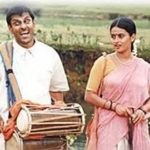 Aathorathile Aalamaram Lyrics
Movie: Kasi [2001]
Music Label: Five Star Audio
Music: Ilaiyaraaja
Lyrics: Pulamaipithan
Singer: Hariharan
Check out 'Aathorathile Aalamaram Lyrics' here..
Aathorathile Aalamaram Aalamaram
Aalamaratthil Thooli Katti Aada Varum Swarna Kuyile
Aathorathile Aalamaram Aalamaram
Aalamaratthil Thooli Katti Aada Varum Swarna Kuyile
Aadum Nenjil Aadum Chinna Kannammaa Kannammaa
Aadi Vellam Pola Pongi Paadalaamaa
Koodu Katti Nenjil Vaazhum Ponnammaa Ponnammaa
Konji Konji Konjam Vandhu Pesalaamaa
Onnatthaane Paattil Vachaen
Nenjukkulle Pootti Vachaen
Aathorathilae Aalamaram Aalamaram
Aalamaratthil Thooli Katti Aada Varum Swarna Kuyile
Velli Kolusu Rendil
Thulli Kulunga Undhan
Kaaladiyin Osai Mattum Kaetkum
Nenjil Varanju Vacha
Unthan Azhagai Kannil
Paartthirukka Aasaiyellaam Theerum
Vaanin Vadivam Yenna
Mannin Vannappum Yenna
Nee Koduttha Kannai Kondu Paarppaen
Kaadu Malaigal Engum Odi Gudhichu Vandhu
Oayvedukka Un Madiyai Kaetpaen
En Vaanile Naan Paarkkum Ponn Vasantha Kaalam
Neethaanamma Naan Paadum En Uyirin Raagam
Kanmaniyil Pavai Yena?
Kannukkulle Vandhavale
Onnatthaanae Paatthu Vachaen
Nenjukkullae Pootti Vachaen
Aathorathilae Aalamaram Aalamaram
Aalamaratthil Thooli Katti Aada Varum Swarna Kuyile |2|
Kangal Irandu Adhil
Unna Enakku Thandha
Un Kadanai Eppidi Naan Theerppaen
Rendu Kural Irundhaal
Onna Unakku Thandhu
Naanum Unnai Paada Solli Kaeppaen
Velli Nilavil Kooda
Ulla Kalangam Patthi
Ooru Solla Kaettu Undu Maane
Kallam Kavadam Edhum Illaa Kuzhandhai Endru
Thullivantha Kolli Malai Thaenae
Naetru Varaikkum Naan Paarttha Karpanaigal Yaavum
Unnmaiyanave Naan Kaana Kannil Vantha Oliyae
Kanmaniyil Povai Yena Kannukkullae Vanthavale
Onnatthaanae Paatthu Vachaen
Nenjukkullae Pootti Vachaen
Aathorathilae Aalamaram Aalamaram
Aalamaratthil Thooli Katti Aada Varum Swarna Kuyile
Aathorathilae Aalamaram Aalamaram
Aalamaratthil Thooli Katti Aada Varum Swarna Kuyile
Aadum Nenjil Aadum Chinna Kannammaa Kannammaa
Aadi Vellam Pola Pongi Paadalaamaa
Koodu Katti Nenjil Vaazhum Ponnammaa Ponnammaa
Konji Konji Konjam Vandhu Pesalaamaa
Onnatthaane Paattil Vachaen
Nenjukkulle Pootti Vachaen
Aathorathilae Aalamaram Aalamaram
Aalamaratthil Thooli Katti Aada Varum Swarna Kuyile
Kasi Tamil Movie Songs
Naan Kaanum Ulagangal
En Mana Vaanil
Aathorathile Aalamaram
Maanu Tholu Undu
Punniyam Thedi Kasikku
Rokkam Irukura Makkal Manasula
Comments
comments