April 18, 2018
Naan Kaanum Ulagangal Song Lyrics
Naan Kaanum Ulagangal Song Lyrics: Naan Kaanum Ulagangal is a song from the 2001 Tamil movie Kasi [Kaasi], written and directed by Vinayan and produced by Aroma Mani under Sunitha Productions. Kasi features Vikram, Kaveri, Kavya Madhavan, Manivannan, Vinu Chakravarthy,  Rajeev, Chandrasekhar, Charle, Thalaivasal Vijay, Vadivukkarasi and others.
Kasi marks the Tamil debut of Malayalam actress Kavya Madhavan. This film was a remake of the Vasanthiyum Lakshmiyum Pinne Njaanum, A 1999 Malayalam film directed by Vinayan himself featuring Kalabhavan Mani. The film was also remade in Telugu as Seenu Vasanthi Lakshmi starring R. P. Patnaik and in Kannada as Namma Preethiya Ramu featuring Darshan in the lead role.
Five Star Audio is the music label of this movie. This song was composed by legendary Ilaiyaraaja with lyrics penned by Mu. Mehta. Naan Kaanum Ulagangal song was rendered by playback singer Hariharan.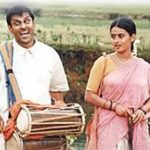 Naan Kaanum Ulagangal Lyrics
Movie: Kasi [2001]
Music Label: Five Star Audio
Music: Ilaiyaraaja
Lyrics: Mu. Mehtha
Singer: Hariharan
Check out the lyrics here..
Naan Kaanum Ulagangal Yaar Kaana Koodum
Naan Kaanum Ulagangal Yaar Kaana Koodum
Solvadhu Yaar Sol Penn Panithuliye
Mellaena Paer Sol Pasum Pulveliye
Ennai Kaanum Annai Bhoomi
Unnai Kaanave Inge
Vendum Innum Oar Jenmam
Vaanampaadi Pole Paadum
Vaazhkai Endrume Vendum
Naan Kaanum Ulagangal Yaar Kaana Koodum
Pootthidum Pookkalai Paarthathillai
Adhin Punnagai Manam Arivaen
Kottidum Aruviyai Paartthathillai
Kai Thottadhum Unarvarivaen
Kokokokokkaena Koovum Kuyilgalin
Koottatthil Naan Inaiven
Kattu Kadangaa Ninaivil Karpanai
Rekkai Viritthiduvaen
Ungal Mugam Paartthathillai
Varaindathillai Naan
En Mugathinai Neengal Ellaam
Paartthathinaalthaan
Ungal Medai Paadal Naan
Oh Oh Oh Ohhh..
Naan Kaanum Ulagangal Yaar Kaana Koodum
Naan Kaanum Ulagangal Yaar Kaana Koodum
Raathiri Paechinil Ammaa Kadhaigalai
Pootthadhu Pala Ninaivu
Kaettidum Kadhaigalil Kalandhe Ulavida
Suttri Varum Kanavu
Kattravar Paesida Kaadhil Kaettadhil
Pettradhellaam Varavu
Vaattiya Varumaiyil Enakkul Thirandhadhu
Karpanaiyin Kadhavu
Vaazhvilai Naan Kandukondaen
Thedalthaane
Vaazhkai Padum Paattinile
Paadagan Aanaen
Paattil Vaazhum Poonkuyil Naan
Oh Oh Oh Ohhh.. Ohhh..
Naan Kaanum Ulagangal Yaar Kaana Koodum
Naan Kaanum Ulagangal Yaar Kaana Koodum
Solvadhu Yaar Sol Penn Panithuliye
Mellaena Paer Sol Pasum Pulveliye
Ennai Kaanum Annai Bhoomi
Unnai Kaanave Inge
Vendum Innum Oar Jenmam
Vaanampaadi Pole Paadum
Vaazhkai Endrume Vendum
Naan Kaanum Ulagangal Yaar Kaana Koodum
Kasi Tamil Movie Songs
Naan Kaanum Ulagangal
En Mana Vaanil
Aathorathile Aalamaram
Maanu Tholu Undu
Punniyam Thedi Kasikku
Rokkam Irukura Makkal Manasula
Comments
comments