October 19, 2017
Aakasha Deepavu Neenu Song Lyrics | Pavana Ganga
Aakasha Deepavu Neenu Song Lyrics | Pavana Ganga: Aakasha Deepavu Neenu is a song from the 1977 Kannada film Pavana Ganga, directed by Y. R. Swamy and produced by C. Jayaram. It is based on the novel of the same name by Krishnamoorthy Puranik.
Pavana Ganga features Srinath, Aarathi, Ashok, Dwarakish, B. V. Radha, Balakrishna, Sampath and others. Saregama is the music label of this movie. This song was composed by Rajan-Nagendra with lyrics penned by Chi. Udaya Shankar. Aakasha Deepavu Neenu was rendered by S. Janaki.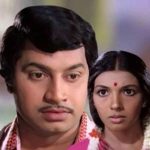 Aakasha Deepavu Neenu Lyrics
Movie: Pavana Ganga [1977]
Music Label: Saregama
Music: Rajan-Nagendra
Lyrics: Chi. Udaya Shankar
Singer: S. Janaki
Check out 'Aakasha Deepavu Neenu Song Lyrics' here..
Aakasha Deepavu Neenu
Ninna Kandaaga Santhoshavenu
Aakasha Deepavu Neenu
Ninna Kandaaga Santhoshavenu
Aa Notadalli Hithavenu
Mareyaadaaga Novenu
Aakasha Deepavu Neenu
Ninna Kandaaga Santhoshavenu
Ninna Kandaaga Santhoshavenu
Kandandhe Kuniyithu Manavu
Hoovaagi Aralithu Thanuvu
Kandandhe Kuniyithu Manavu
Hoovaagi Aralithu Thanuvu
Hrudayada Veeneyanu Hithavaagi Nudisuthali
Ananda Tumbalu Neenu Naa Nalidenu
Aakasha Deepavu Neenu
Ninna Kandaaga Santhoshavenu
Ninna Kandaaga Santhoshavenu
Anuraaga Moodida Mele
Nooraaru Bayakeya Maale
Anuraaga Moodida Mele
Nooraaru Bayakeya Maale
Hrudayavu Dhariside Ee Jeeva Soluthide
Sangaathiyaadare Neenu Naa Ulidenu
Aakasha Deepavu Neenu
Ninna Kandaaga Santhoshavenu
Aa Notadalli Hithavenu
Mareyaadaaga Novenu
Aakasha Deepavu Neenu
Ninna Kandaaga Santhoshavenu
Ninna Kandaaga Santhoshavenu
Hoovaada Aaseyalla Mullaagi Hoyithalla
Jeeva Nova Thaaladallaa Sukha Shanthi Innilla
Nemmadiya Kaanenu Naa Sothenu
Aakasha Deepavu Neenu
Ninna Kandaaga Santhoshavenu
Aa Notadalli Hithavenu
Mareyaadaaga Novenu
---
Pavana Ganga [1977] Songs List
Aakasha Deepavu Neenu
Lyrics: Chi. Udaya Shankar
Singers: S. P. Balasubramanyam, S. Janaki
Aakasha Deepavu Neenu [Sad]
Lyrics: Chi. Udaya Shankar
Singer: S. Janaki
Modalane Dinave
Lyrics: Chi. Udaya Shankar
Singers: S. P. Balasubramanyam, S. Janaki
Hoovondu Beku Ballige
Lyrics: Chi. Udaya Shankar
Singer: S. Janaki
Comments
comments