July 3, 2018
Annayya Thammayya Lyrics | Ade Raga Ade Haadu
Annayya Thammayya Lyrics | Ade Raga Ade Haadu: Annayya Thammayya is a Kannada song from the movie Ade Raga Ade Haadu, directed by M. S. Rajashekar and written by T N Narasimhan. The film was produced by S. A. Govindaraj under the banner Bhagavathi Combines.
The film was released in 1989 featuring Shivarajkumar, Seema in her debut film, Srinath, Thoogudeepa Srinivas, Shivakumar, Pramila Joshai, Girija Lokesh, Sundarashree, Mico Kitty, Go Ra Bheema Rao, Gopalakrishna, Srishailan, Karanth, Chikkanna, Kunigal Ramanath, Kannada Raju and others.
Sangeetha music is the audio label of this movie. This song was composed by Shankar-Ganesh with lyrics written by Chi. Udayashankar. Annayya Thammayya song was rendered by S. P. Balasubrahmanyam.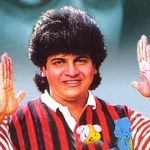 Annayya Thammayya Lyrics
Movie: Ade Raga Ade Hadu [1989]
Music Label: Sangeetha
Music: Shankar-Ganesh
Lyrics: Chi. Udayashankar
Singers: S. P. Balasubrahmanyam
Check out the lyrics here..
Annayya Thammayya Nodi Neevilli
Enide Yendu Nanna Yedeyalli
Ammayya Akkayya Nodi Neevilli
Enide Yendu Nanna Yedeyalli
Ee Sundari Aa Vayyari
Aa Vaiyyari Ee Sundari
Annayya Thammayya Banni Neevilli
Ammayya Akkayya Nodi Neevilli
Yendide Yendu Nanna Yedeyalli
Ee Sundari Aa Vayyari
Aa Vaiyyari Ee Sundari
Hey Rathriyalli Horage Bandu
Nanna Serikondu
Hey Rathriyalli Horage Bandu
Nanna Serikondu
Aadutha Nagutha Aadutha
Olava Geetheya Jothege Haadutha
Sihiyada Muththonda Thutigondu
Needuththa Santhosha Tharuthale
Dinavu Nannalli
Annayya Thammayya Nodi Neevilli
Enide Yendu Nanna Yedeyalli
Ee Sundari Aa Vayyari
Aa Vaiyyari Ee Sundari
Nanna Hrudaya Meththeyanthe
Nanna Ee Nallege
Nanna Hrudaya Meththeyanthe
Nanna Ee Nallege
Haalina Manasu Thelalu Nayana
Preethiya Sogasu Nodalu
Usiralli Usiraagi Ondaagi Beretholu
Balalli Jotheyaagi Iralu Bandolu
Ammayya Akkayya Nodi Neevilli
Yendide Yendu Nanna Yedeyalli
Ee Sundari Aa Vayyari
Aa Aa Aa Vaiyyari Ee Ee Ee Sundari
Ade Raga Ade Haadu Songs Lyrics
Annayya Thammayya
Aththe Magala Udupu
Anuragada Hosa Anandavo
Manasalli Ninthe
Eleya Mareyali
Comments
comments